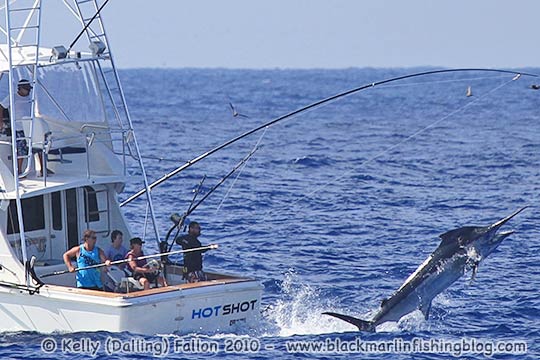 [nggallery id=11]
Reverse teams played out the fish on Thursday with Amokura, with Capt. Jim Dalling at the helm on another cameo appearance on the reef with a fish leading things off at lunchtime with a 950lb-er for angler Dave from Melbourne.  It wasn't too much later when they followed that one up with an even bigger fish that Capt. Jim called 990lb for Michael, ending with two from three for the day.  A top day!  And not bad for two anglers visiting the reef marlin fishing for the very first time!  (Grainy mobile phone picture included in the lot above – hopefully more to come tonight.)
Also coming off the bench, the fishing behind Hot Shot fired once again with Capt. Ian Ford putting his anglers onto another two including a 600lb-er for 12 year old angler Michael Garbet.  That was followed up with an 800lb-er that I snapped the above photo of (main picture), for his Mum!  Castille III went one from four at an impressive 900lbs, and Release was last seen burning around in reverse again as well.
No luck for Dougie with us on his final day fishing 50lb.  Even the fly-over from Brendan and Rick, who are fishing with us from today, was not enough to stir up the fish behind our baits. Photo of the helicopter and from the helicopter above.
The Port Douglas Marlin Challenge starts fishing today at 11am. We're not fishing the competition but I'll be listening out for the skeds from tournament radio boat Joe Joe and so you can follow my twitter feed if you want to keep up-to-date with how its progressing.  Fishing days are today and Saturday. Lay day on Sunday followed by two more days fishing Monday and Tuesday.