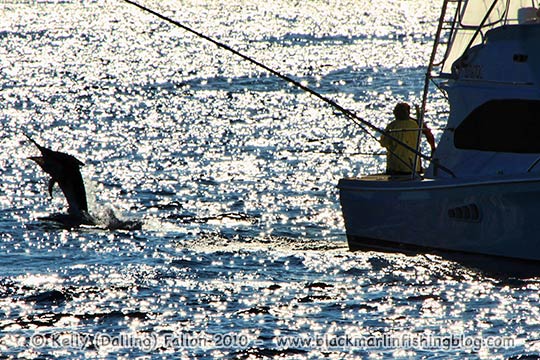 Perfect weather for a change!
But, it seemed like their were significantly less fish at the southern Cairns grounds yesterday with the 9 boats fishing the Port Douglas Marlin Challenge reporting many donuts on the skeds. The only fish for the day amongst the tournament boats was a 250lb-er for Gorilla on Number 2 Ribbon. Gorilla is the only boat fishing in the Ribbons so that says something in itself.
Outside the tournament, Little Audrey reported a 350lb black for Dreamin' On mate Lincoln Funk, his first black marlin as an angler.  Moana III with Capt. Dan McCarthy released one at 500lb.  Hot Shot added another 350lb-er before heading into town for changeover and Capt. Jim on Amokura added another as well.  Good to see Iceman with Capt. Bobby Jones on anchor at north Opal last night having made his way down the reef to fish to the south as well.  Sam reports they went one from two yesterday.  Another to make their way down south was Capt. Trent on the blue Iona.  Brad Curtis on deck tells me they've released 6 in last 6 days and yesterday added another two from four including on at 700lb-er.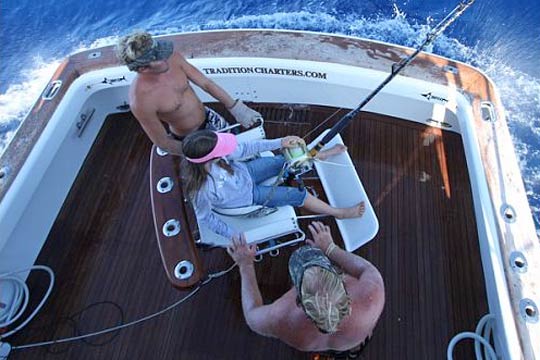 11 year old Hannah from Tequesta, Florida 'almost' got herself a 300lb marlin on Tradition, but unfortunately it fell off very close to the boat after 30 minutes.  Capt. Tim says they'll try to catch her one today to follow her Dads grander from a few days ago. Good luck Hannah!