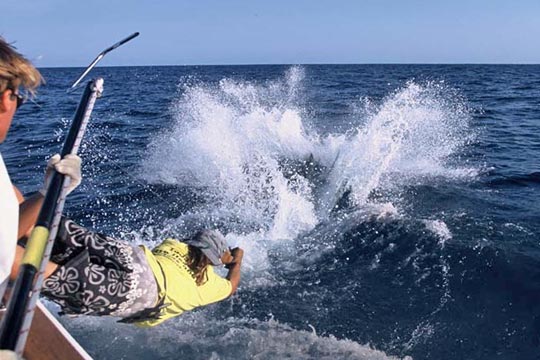 Photo by John Ashley.
Wallace sent me this photo and asked if I can share the story behind it.  Well, I'll try.
I think it was 2004 (which was the year before my first year on the reef. That was a good year they say, with lots of big fish around.)  Capt. Corey Hard was at the helm of the Desperado, the 43 foot O'Brien which is now owned and run by Capt. Tim Dean and renamed Calypso.  The boys had been having a great run with angler Paul Couglan on board and were catching some big fish.
Paul was keen to weigh a fish and this fish was certainly in the grander class and so the decision was made to get the gaffs out.  On deck was Hawaiian Kevin Hibbard and local Michael Padula.  Unfortunately, when Michael took his wrap on the leader (while Kevin stood ready with the gaff), the fish veered away and he got caught up.  Luckily when he hit the water, he came unraveled and he was able to swim back to the boat, shaken but uninjured.  And, in a double whammy, not too much later the leader broke on another attempt and the fish got away.
They call it the "Underwater Wireman's Club" and there are a few members. But keep in mind, crew are on the whole very experienced, and accidents are rare.
On my first season on Reel Chase with Dad one of our crewman got pulled over the side during the Lizard Island tournament. The difference here being that said just didn't let go, and the whole sequence of events was filmed by the guys on the boat next to us. He surfaced straight away with his sunglasses still on his head and gave us a cheeky peace sign before climbing back in.  And I spent the whole rest of the season holding his ankles every time he even looked like leaning over the side…  Capt. Luke tells me when he was young(er) working on deck, he joined the club too. He just held on a bit long.  But he lost his sunglasses.