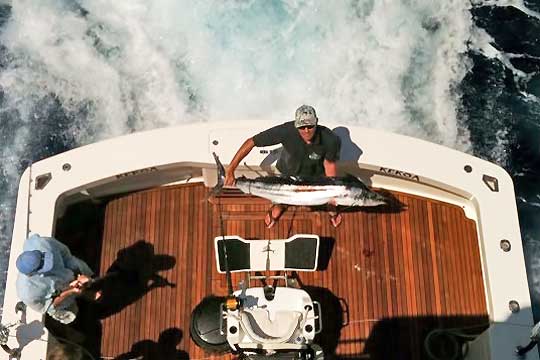 Just some little bits and pieces to report this week:
Gold Coast: There are still a few blue marlin being caught.  Capt. Luke took Lenny and the boys out on KEKOA on Sunday which was probably the pick of the 'fishing' days on the water this week.  They went two from four with a double header of spearfish netting the boys this little fella.  And a double header of blue marlin, netting the boys one not too much bigger! 

Capt. Luke said that the blue they caught was about 60kg, which is pretty small for what we usually catch around here.  But another local boat released one even smaller on Sunday as well, that they put at 40kg. The blue they jumped off was bigger, in the 200lb range.  On Saturday, Capt. Ross McCubbin on Lucky Strike broke the hook on a nice sized blue (approx 400lb) and missed another on Sunday.

Congratulations go to Ross Martin on deck (pictured holding the spear) who went from holding this baby during the day, to holding his own baby overnight as partner Shelley gave birth to the latest addition to the Martin clan, baby Jet.

Sunshine Coast: Ross tells me that over the weekend Luna released a 80kg black between the banks and the 18 mile while Paul Jones also released his first marlin on his boat, on a laser pro!  The Bribie Island tournament (postponed from January due to weather conditions) also wrapped up with Fido taking out the top honours with a bunch of other gamefish while BlueBlack released a sail.
Port Stephens: Hot and cold, but mostly HOT water. Capt. Tim on Calypso has been getting a few. Before the southerly came through he released a double header and will be out there chasing them again this week on fly.  Little Audrey has joined the boats at Port and Capt. Dan reports that he released one for his first time angler on the way up from Sydney on Sunday as well as a 20kg dolly. 

The crowds have been present on the car park and will only continue in the leadup to the Luhrs Billfish Shootout which is on this weekend. I heard that the Luhrs is maxed out for boats and that they have been turning entries away capping it at 80!  Should be fun! 

The Interclub also starts next weekend so this will be a good indicator of what to expect then for the (usually) 200+ boat fleet.

Bermagui – Slammer's Capt. Dave Cassar tells me they've certainly been 'slammed' by the weather of late but the fish are still there.  Over the weekend, boats fishing in the 25knot southerly including Hot Shot who released two striped marlin to 200lbs on Sunday and Mr. Hooker with one. Hopefully the weather clears up to get them out there again this week.