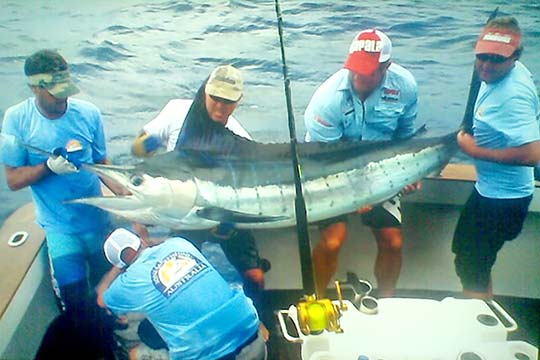 For those who picked up on my typo in the newsletter yesterday, thank you for that. It is indeed the Surfers Paradise All Tackle All Species tournament that is coming up on March 12 & 13.
Down to business – if you're not fishing right now, chances are pretty good these reports are going to make you wish you were:
Coffs Harbour – Boats heading through Coffs on their way down to Port Stephens for the tournament season have been enjoying some good fishing on the way through.  Capt. Bob Jones' Iceman with Capt. Ross McCubbin joining him on board went two from six blue marlin in a straight line between Byron Bay and Coffs Harbour. Barry Alty's Mistress is heading down there to get amongst the action this week.
Rick reports the the Solitary Islands Club members ended up with 12 blues, one black and one spearfish last club weekend.  Local boat Matador went out for another perfect day yesterday and had gone 2-2-1 by lunch after a relatively late start at 9am.  And Glen (Booth) also reports that the Kanahoee and Makaira each released a blue yesterday as well. Conditions look pretty good for them all this weekend as well.
Port Stephens – Said tournament season kicks off with the Luhrs Billfish Shootout this weekend. And apparently because the prize money did not go off last year, the Heaviest Marlin prize has jack-potted this year to 20k!  Good luck to all who are competing!  Brent Hancock reports the bite has slowed a little but boats in the know are still finding the fish.  Capt. Corey Hard on Askari reported 8 in the last few days with the rest of the fleet are averaging a couple a day as well.  Capt. Tim Dean on Calypso has just wound up a few days fly fishing, while Iona 2 have been filming the last few days with the crew of Lifestyle Channel's Fishing Addiction on board.  Capt. Adam sent me this pic of a nice chunky stripe they pulled on board for a photo before releasing.  Between Capt. Adam and Capt. Trent they've released the stripe and a black a jumped off another couple of billies.
South Coast NSW – Boats getting out on the water had some good action yesterday with Batemans' Bay club reporting two from two for Double D and one from one for Frigate yesterday.  And Bermi has been ever consistent with a couple of good days of weather coming up as well!