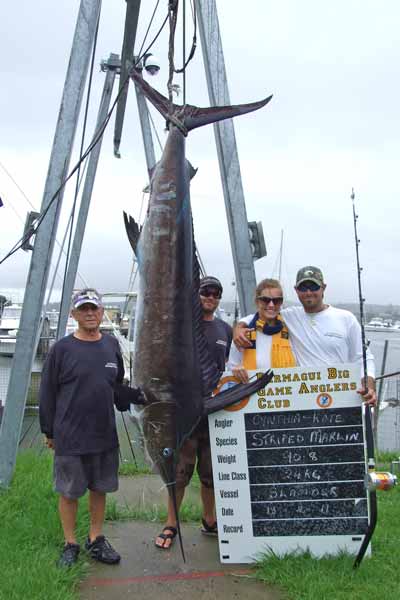 Capt. Dave Cassar sent me this picture from his day out on Slammer yesterday off Bermagui which saw angler Cynthia get her first striped marlin which weighed in at 90.8kg on 24. Capt. Dave says they had another bite the bait jig on the way up before heading in for an early mark after the weather came through at lunchtime.
Meanwhile at Port Stephens, by all reports the fishing 'fired' just in time for the tournament. Capt. Tim Dean showed just how good he is on his local grounds and is leading the pack with 8 tags on the first day including a grand slam. Fishing on Calypso this weekend, Capt. Tim released 5 striped marlin, two black marlin and one blue marlin. Andy Bagnall, who's fishing on Frito 1 tells me the bite was pretty hot out there and that there are a few boats with good numbers after day one, including his team who went 5-5-4, 4 striped marlin and one black (including the miss, obviously :-).
As for the 20k jackpot for heaviest marlin capture, it seems like it's all a bit up in the air at the moment, although the first sked this morning should clear up the standings for teams aiming for this prize on Day 2. I heard there was a 159kg blue weighed but the fish was unfortunately disqualified as the trace was too long. Ben "Notso" Bright, on Flying Fisher 1 tells me the main bite was to the south and the weather conditions were quite a bit unfriendly for the smaller boats in the fleet on Day 1. But today has dawned a glamour day and they're looking forward to getting stuck into them again! Looking forward to hearing how they all go.
More from Coffs Harbour with both Wicked Weasel and Makaira releasing blues yesterday with Wicked Weasel going one from two. Boats fishing on Friday had more action though lesser results. Rick O'Ferrall, on Foreign Exchange went 0 from 9, as the blues kept coming, but not all the way to the boat.
Rick reports it was abject misery for him and his crew for the day which included Coffs Coast Sport Fishing's Rob Lang and Solitary Islands GFC president Sultan Linjawi, with straightened hooks, fish that ran hard across other lines before they were cleared and burnt the line in half, and one fish that pulled hooks after a 45 minute fight, on the leader! Others simply dropped off after a big run, and disappeared. I also heard from Glen that another boat Matador had a similar day and was 0 from 4 by 11am. Sometimes the blues just make you want to tear your hair out!
If you were on Facebook you would have seen that Iceman ended up with three from sevens blues in the 3-350lb range on their trip down the coast, most action in the area between Byron and Coffs. Capt. Ross McCubbin who joined Capt. Bobby Jones on board for the trip down tells me that one of those blues was his very first as an angler. Quite remarkable considering how many he's caught as a captain!
Meanwhile, back in SEQ Bruce tells me that a few boats have been out scouting about before the Little Ships tournament next week. While Bruce said they had no luck with the billies themselves, Barco went one from two and Tsunami and Megumi got one each off Point Lookout.  And Grant on Cjig headed down to the Tweed Canyons on Friday and lost a blue but caught a nice spearfish as well as a couple of dollies, an monster barracuda and the odd stripey tuna. Grant says it was a hive of activity down there!