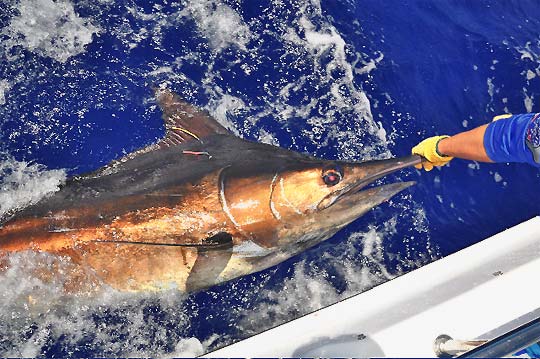 Photo from Glen Booth from Wicked Weasel off Coffs Saturday
It's been another great weekend of marlin fishing! Starting from the south as we did at half time:
Bermagui:
Capt. Ian "Wobbles" Ford on Hot Shot wrapped up a great week on the water with 3 from 3 on Sunday.  Wobbles tells me that put them on 8 striped marlin for the week with the weather working against anyone fishing for a good part of it.  But the fishing has been so consistent down there this year and it looks like they've got some great weather in store this week to get out there again!
Port Stephens:
The Newcastle/Port Stephens GFC's Luhrs Shootout wrapped up yesterday and yes, the $20,000 jackpot for the heaviest marlin was won. It went to the team on board Seaka, for what Andy tells me was a blue marlin around the 157kg mark. It seems like there were a few blues weighed around the qualifying weight and it was a pretty close contest!  Congrats to the Seaka team who are probably nursing some sore heads this morning!
On the Tag & Release side of the competition, I don't know the proper breakdown of points for the fish/line class but can happily confirm that Capt. Tim Dean came through to win with a total of 10 marlin tagged by following up on his ripper Day 1 of 8 tags with two from four yesterday. Congratulations to Capt. Tim and everyone on board Calypso for another great win!
And congratulations to Andy Bagnall (who kept me up-to-date with the reports-thanks Andy!) and the rest of the team including skipper Troy Firth on board Frito 1 who followed up a very solid start to the comp on Day 1 with 4 stripes with another 4 on Day 2 to finish on 8 tags and tournament Runners Up!  Andy tells me their breakdown was 6 marlin on 24kg, 1 on 15kg and 1 on 8kg.  In third place was team Lone Wolf who came home very strong on Day 2 with 6 tags to bring their tournament total to 7 marlin (Update: From the NPGFC final standings, third place on count back actually went to Viking from Born Free, Lone Wolf and Gunrunner).
By all reports the fishing has fired at the right time – Andy tells me there were 108 marlin caught in the tournament over the weekend (50 on Sat and 58 on Sun).  I heard the boys on Magic have some sore arms today after reeling in three blues yesterday alone, including one that they self disqualified.  Boats fishing outside the tournament including Scotty Thorington's Flying Fisher 1 (thanks Ben for the reports!) and Ross and Glen Hunter on Broadbill and Billfisher were got into the fish as well, a good warm up for the Interclub which starts this weekend.  No doubt, more results will filter through today.
Coffs Harbour:
A correction from Saturday with Wicked Weasel enjoying some more great Coffs blue marlin fishing in 2011 with two from two.  Glen says one was about 80kg and the other 150.  Some good luck held for them on the last fish when they found the snap open upon bringing the fish to the boat!  Mistress has made it down to Coffs, where they will be fishing until the 25th when Barry heads over to NZ, and jumped two blues off. Glen says they did come home with the consolation  prize of a bucket and a barracuda — which must have tailed them down from Cairns…!  On Sunday, Troy Boulton fishing from his centre console No Limits tagged two from two blues at 60 and 120kg.  The predicted weather did not come though and he enjoyed a beautiful glassy day on the water.
Glen sent me these great pics including one of that 'lucky' snap. Great shots, thanks Glen!
[nggallery id=18]
South East Queensland:
Vince and the boys on Barco gave me an update on the fishing from the last couple of days.  They went 1 from two blues on Friday and same again Saturday as I mentioned in the half-time report.   Vince also tells me that Watch Tower went two from three blue marlin on Saturday as well.  More details from Capt. Ken Brown on Megumi's weekend.  They released one from one off Point Lookout on Saturday estimated at around 250lbs for angler Jacob "Jugger" Clamp which was his first marlin.  On Sunday, they followed up with another first time blue for angler Richard Kennerley. Ken says the fish went ballistic (photo below) and did some of the best jumps he's seen. Luckily lens man David Granville was on board to capture the action! Yesterday was one from three with the other two bites classic 'thuggings' on the short corner that didn't hook up. Thanks Ken!