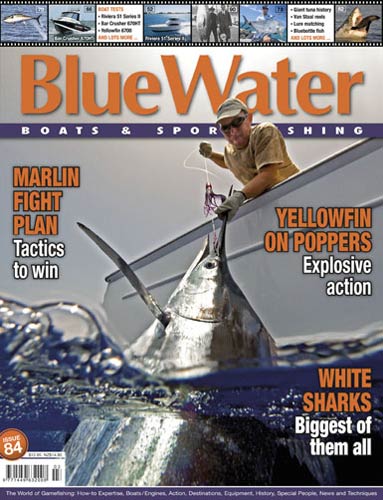 Another SEQ report from Rob Wood who had a great day fishing east of the Spit on the north east coast of Fraser Island on Sunday.  Rob says they hooked seven (!) blues and tagged two and the fish were out in numbers ranging from 80 kg to about 150kg. Sounds very good!

Rod also reports that the fish were caught in all depth ranges with the first one at 130m and other bites right out to 800m with the majority around the 200m to 400 metre mark.

BlueWater Boats and Sportsfishing Magazine, issue 84 is coming up on sale on March 2 and includes a feature on the famous Capt. Marlin Parker who shares his marlin fighting techniques and a "They Call The Shots" interview with WA's leading charter skipper Capt. Ross Newton from Reel Teaser Charters. Speaking of BlueWater Magazine, I have put the pdf link up to the Cairns 2010 Black Marlin Season recap if hadn't had the chance to see the article yet.
I spoke to Steve on Amokura yesterday who told me that although they didn't get up to threaten the leaders during the weekend's Shootout (they tagged two on Saturday for junior fishing machine Jacinta), they're looking ahead to the Interclub which starts this weekend. Last year, Amokura was the champion boat with 15 tags and so we're sure they'll be in there amongst the leaders again this year!  The boys have been busy updating their footage from the 2010 Cairns Giant Black Season (yes I'm still working on ours!), you can check out their latest compilation below:


AMOKURA – 2010 Highlights from Rod Thomas on Vimeo.

Some more information about The Billfish Foundation's new membership lottery with the prize being a trip to the GBR this November to fish for the Giant Black Marlin. The Australia trip is open only to residents of Australia, New Zealand, and the South Pacific.  By joining TBF at any level you are entered in the draw.  There are also three other trip lotteries — Panama, Guatemala, and Miami — that are open to all TBF members and people that join at certain levels and you can find out more on the website.
On facebook I mentioned that Ben "Nosto" Bright fishing with Scotty on Flying Fisher 1 had got some good footage with their collection of GoPros on Sunday in the glamour weather. Well, Ben's already got the footage up, and you can see it here:

Other reports have been slowly filtering in from the Shootout but it seems that aside from the winners, information is hard to come by: Born Free finished close behind the boats in the placings with 7 tags in total (6 stripes and a black) and Capt. Tim will be back on board for the Interclub.  I heard that Askari was nudging the leaders on Day 1 but a harder Day 2. Likewise, Rod on Murrifin had some luck tagging a stripe and a 130kg blue on Day 1 but lost another nice blue on 15kg after two hours before some engine misbehaviour put a dampener on their Day 2.