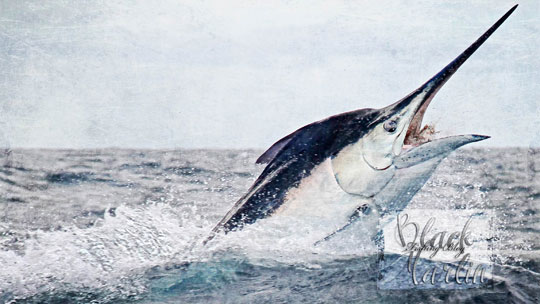 And some video clips at the bottom of this entry too.
Another free desktop wallpaper, this third one featuring photos from the 2010 giant black marlin season in Cairns and includes a March/April calendar. If none of the dimensions below fit your screen, use your image editor to refine the dimensions or choose 'Stretch to fit'.
Choose from For Iphone, 1024 x 765, 1280 x 800, 1440 x 900, 1680 x 1050, 1920 x 1200, 2560x 1400 and one-size without calendar.
Simply open the picture in the resolution of your choice and from your browser file menu, save it to your computer. Once the image is on your computer, right click and select "Set as wallpaper" (for PC users) or select "Set Desktop Picture" (for Mac users). The wallpaper is free for personal use only. You may not re-distribute or use the wallpaper or the images it contains commercially. Enjoy!
I've also put together another clip clip from the 2010 Giant Black Marlin Season – I shudder to think how many more there are to go.  I hope you enjoy it below – a late season 850lb black marlin for Jason on board KEKOA.  I've also seen some more really good clips being put together from the action at Port Stephens this season.  Rod put up this clip of the marlin action on board Murrifin. Muzza also put together an action packed 'preview' from the girls team on Gunrunner that certainly left me wanting to see more (facebook link).  The Interclub starts this weekend — wishing all the teams competing the very best of luck!
By the way, Youtube tells me that my video is blocked in Germany because of the music – so if you are having any troubles viewing the above, I uploaded a second version with different music here.