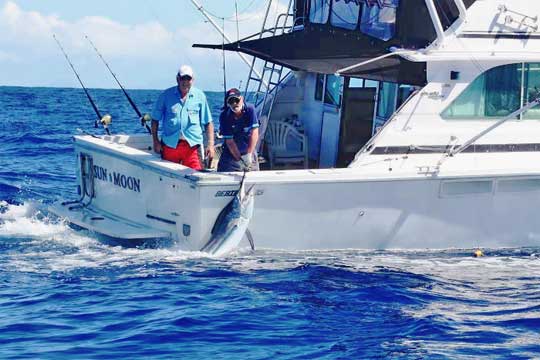 Thanks to Ian Bladin who sent me a wrap-up from the Little Ship GFC Haines Group Classic and Garmin/EMS Interclub Shield on the weekend. Ian reports the 24 boats fishing had great weather, as the swell has dropped away just in time. However, the fishing was quiet on Day 1 with a few tuna, wahoo, mahi mahi. Local boat Sun & Moon, tagged the only billfish for the day, a black marlin on 8 kg for past club captain Trevor Clark (photo above). Day 2 dawned with the billies wanting to play. From Noosa Canyons to South Stradbroke they were all up for a look on both light and heavy tackle although Trevor Clark was the only angler who could stay hooked up long enough for a tag shot. For the second day running Trevor was the man to beat. Heavy tackle was looking good with a few fish up, mainly blues with 6 boats calling in shots, but Tony Roset on Cool Runnings reported the only tag into a nice one around 400lbs. Yellowfin and longtail were around on the light tackle grounds and some serious mahi mahi on the chew, including one at 23.7kg for 10 year old angler Nick who fishing his first tournament. Ian says that it was party time Little Ship style for the evening, with 24 boats all rafted up on the 40 metre club pontoon and lots of sore heads likely for the morning!
Outside the comp, Castille III went two from four blues off the Gold Coast on Saturday at 450lbs and a smaller fish. I heard that Katie got some tagging practice in too (on you Katie!) Off Pt. Lookout, also on Saturday, Reel Magic had a great day releasing two blue marlin as well that they put at 200 and 600lbs! Sounds like on the water was a great place to be with the temperatures soaring on land!
Gold Coast based Mistress returned after a week in Coffs, a few days stuck in port due to the weather. Barry said they ended up with 4-3-1 with all fish under the 100kg mark. The southerly eased late in the week however and SIGFC's Rick O'Ferrell reported that club boats fishing the Coff's Coast have had 5 from 9 in the last couple of days. Rick says standouts were Glen Booth's Wicked Weasel, and his own Foreign Exchange (5-4-2), which fished close together on Saturday – Rob Lang on Foreign Exchange hooked up an 80kg blue and Wicked Weasel snagged a 150kg model out of the same patch of water moments later. Rick says the late summer blue marlin season is powering along better than anyone has seen for years.
Meanwhile down at Port Stephens for the massive NSW Interclub Tournament, the first weekend's fishing has wrapped up with many boats in contention. The few snippets I've heard so far from Andy who reports from Frito 1 who are fishing for the Newcastle/Port Stephens team and went 2-1-0 on Day 1 (loosing a stripe on 10kg at the boat after fighting it for an hour) and 4-4-3 on Sunday (1 black marlin, 2 striped marlin). Andy says there were a LOT of fish caught again on Day 2. Unofficially I hear that Capt. Corey Hard on Askari is in the lead with 8 tags from the team on The Force. I also heard that Gary Holt's Diversion had a great day Sunday and were seemingly hooked up all day. Amokura is not too far behind on 5 (tagging 6, but self disqualified one) – with Capt. Chris Jolly at the wheel. (Got my wires crossed earlier, sorry Chris!) Ready to make a run at the leaders.
More info to come as reports filter through later.