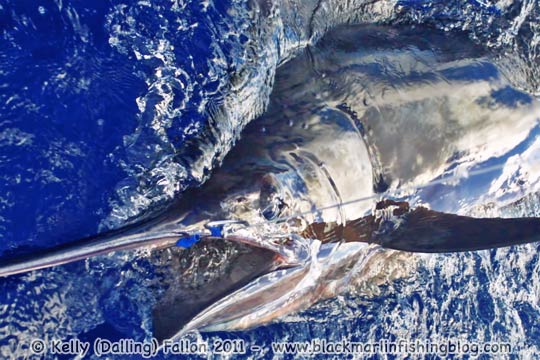 There have been some reports of BIG blue marlin off Queensland's south-east over the last few days.  David Trask on Big Business reported releasing a fish they put at around 700lb with the crew of Creek to Coast on board on Tuesday.  David said the fish played up like all hell on the surface for the entire fight and he's hoping that channel 7 got some good footage of it. Hopefully David can let us know when the episode will go to air.
Then, this morning I heard from Capt. Luke, who is on transit on KEKOA back to the waters of FNQ, where I will join him next week after leaving the Gold Coast overnight. Luke tells me Capt. Ken Brown on Megumi just released a blue marlin that Ken put at 800lb (update: David Granville tells me Ken just let go another about 350lb).  And, Ken also relayed the news that Chris Herbert's Absolute let one go they put over 900lbs yesterday!
More blue marlin reports from earlier in the week:
On the Gold Coast, Capt. Ross McCubbin on Lucky Strike released a blue that Ross put at 350lbs for the legend Marky Morland.  They also released another spearfish about the 40lb mark. There have been a few of them around this year.
And at Port Stephens for Ladies Day on Monday, an honorable mention has to go to Scott Thorington's 15 year old daughter Alex who fought a blue for over 6 hours unsuccessfully.  Physically shattered I'm sure after such a long fight – but what an effort for the youngster!
—
I also have to apologize for the lack of weekly sked this week.  I have had some computer issues – apparently my laptop had a lot of salt floating around inside, go figure! But I have a new machine now, all up and running again.