Picture you–>here.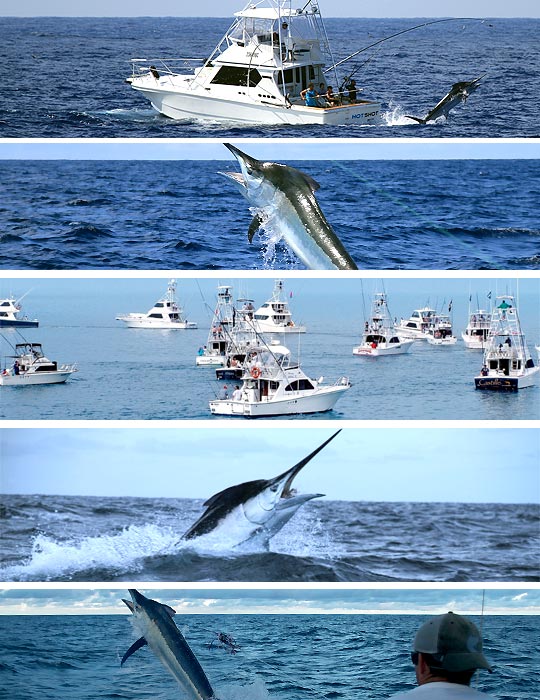 Every year in September through December, giant black marlin return to the warm waters of the outer edge of the Great Barrier Reef, from Cairns to Lizard Island. They come from all over the Pacific, giant females to sizes in excess of 1,000lb.
This is the best place in the world to fish for a grander black marlin!
If you are interested in fishing on the reef in 2011, the following boats have vacancies for:
Joe Joe: October 2-9 October (Lizard Island Tournament), 26-31 October, 10-15 and 25-30 November.

Mistress: After fishing privately for the 2010 season, Mistress is back on charter in 2011. They have good dates in October and November available.
Tradition: Good time from 24 October – 6 November
Calypso: 20-26 September / 15-25 October
Reel Chase: Good dates including availability for the Townsville Billfish Challenge 2-7 September and Lizard Island Black Marlin Classic 1-8 October
Castille III:10-15 and 21-26 October and 1-7 November
Cool Runnings: Key dates throughout including the Lizard Island Black Marlin Classic 1-8 October
Game Over: Key season dates including Sept 19-28, Lizard Island Black Marlin Classic 1-8 October, 24-27 October and November 8-15 & 19-30.
Hot Shot: 11-19 October, 12-19 November
Kekoa: 16-20 October
Little Audrey: Key dates in October and November including the Port Douglas Marlin Challenge 2-7 November
If you're not a subscriber, you can read the rest of the June newsletter here.