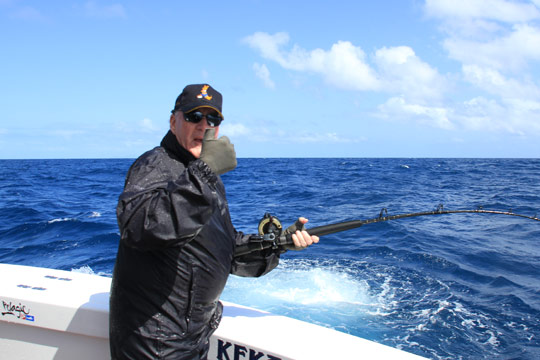 Mike Carney gives the thumbs up after his sail
Although most of the teams fishing the Mike Carney Billfish Challengemost chose Sunday as their fishing Day 1, there weren't many boats actually fishing with the weather gusting a fair wallop over the 25knots predicted. Like a few others, we made it to the grounds just in time to do a u-turn for the anchorage!
Finally however, yesterday (Monday – Day 2) teams had some luck go their way with the weather easing and some billfish making it onto the scoreboard.  On board KEKOA, Mike Carney, long-time Townsville sponsor, made it onto the scoreboard first with a foul hooked sailfish that gave him a fair bit of grief on the light line. That was shortly followed by the team on Elektrakusen who also tagged a sail.  Those two fish were recorded on the first sked as well as two boats hooked up being Castille III and Disco.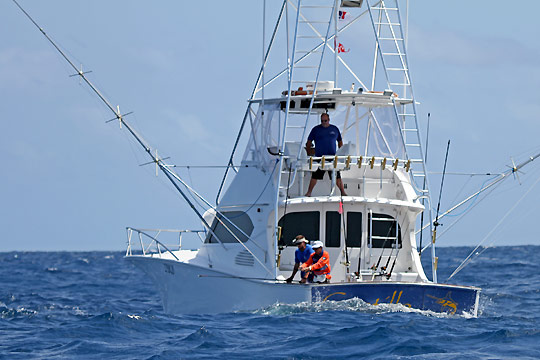 Eddie Shi fights a little black marlin on board Castille III
Shortly after the sked Capt. Dean Beech called in the tag for angler Eddie Shi, an estimate 22kg black marlin — the first juvenile black marlin recorded at Cape Bowling Green for some time.  Congrats Eddie – giving us hope that the little guys are coming back! Unfortunatley, after a prolonged fight, Capt. Mick Meiers on Disco called in their lost fish.  On the same patch of bait, not too long after the sked, we (KEKOA) were able to hook a little black for another Toyota angler Nigel Lucas – not Nigel's first tournament but his first marlin!  And that was it for reporting for the day.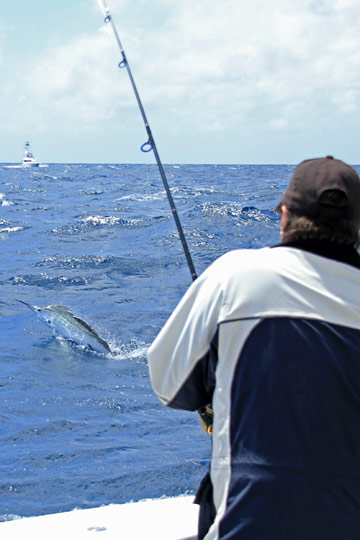 Nigel's black marlin on board KEKOA
With the extended fishing grounds this year including a heavy tackle area out at Myrmidon, there are plenty of boats MIA on the skeds so there is a possibility for more fish.  The weather continues to improve today and so lets hope so too does the fishing.
On another note, while we've been at sea the last couple of days we noted more of the fleet heading north for the start of the Cairns Giant Black Marlin Season including private boats Brilliant Company and Diversion as well as some of the charter fleeting including Little Audrey.