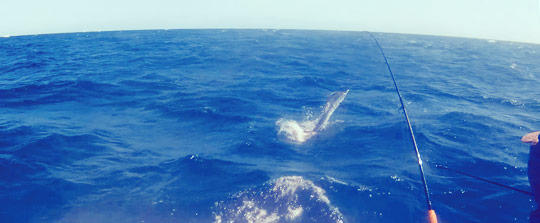 A video still shot from Chris Carney's little black marlin on KEKOA
Day three of the Townsville Tournament and we (Castille and KEKOA) were joined at Cape Bowling Green by a couple more of the fleet being Mañana and Kanahoee. The fishing has not been red-hot, but all of the fish caught thus far save one have been caught off Bowling Green so its as good a place to be fishing as any.  On KEKOA we kicked off the fishing for the day with another little black that Capt. Luke put at 20kgs for Chris Carney.  On the second sked, Kanahoee also recorded a sail. They are having radio problems again so we are not sure on their final result for the day… da da daaa (that's a suspenseful drumroll)!  Overnight, more boats have joined us at the Bowling Green anchorage so it will certainly make for a more social final day of fishing.
And today is the final day fishing today for the entire fleet save Utopia who started off a day earlier and finished yesterday.
Mark Parkes Mojo also called in a potential world record GT caught on 6kg yesterday afternoon so we'll be looking forward to the weigh-in today to see how much it goes!