I'm happy to announce that major sponsor Mike Carney (Toyota) and team, consisting of his son Chris and Nigel Lucas on KEKOA, took out Champion Team in the Townsville Billfish Challenge yesterday.  Capt. Luke Fallon also took away Champion Skipper and deckie Braden Byrne, Champion Crew.   In the Under 8 Metre category, the Davidson brothers' Elektrakushen won for the second year running. (Chris also took home an added cash bonus having bought both his boat Elektrakushen and KEKOA in the Calcutta!)
Capt. Chris "Sharky" Miles on Kanahoee lead off the scoring on the final day with an early black marlin for Stav Bogiatsis (giving their team the runner-up gong).   Soon after, Mañana got on the scoreboard also releasing a small black.
While there were a few more fish lost, including two blacks in succession to the team on Castille, on KEKOA we stayed connected to two more fish, a sailfish and a larger black marlin just before cease fishing, to bring our total for the tournament to 5 tags.  Mike also won Champion Angler for his two sails and Chris, runner-up on countback for his two black marlin.
Thanks to the Townsville committee, members and most of all sponsors again for another great tournament.  At the presentation dinner, Bo Dreisg put together another audio visual spectacular with footage from the fishing as well as a look back on tournaments past.
With predictions that the Bowling Green season may just be starting (conditions this week were more like early August with the cold water temperature and bait starting to show up) there may just be many more little blacks caught down there this year yet!
(Reminder to sign up for the daily digest to get the daily photo wrap up sent via email to you during the season.)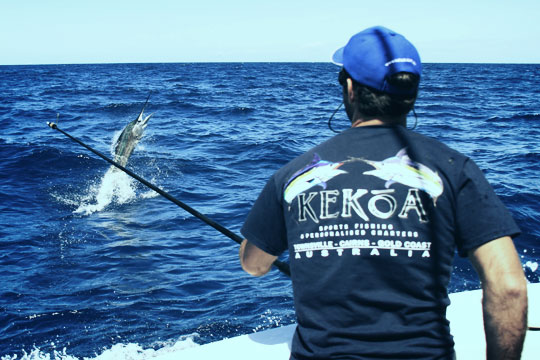 Champion Crew Braden Byrne about to make the tag shot on KEKOA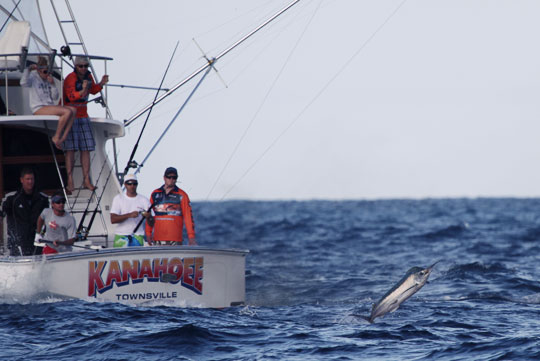 Townsville GF Club VP Stav Bogiatzis fights a little black marlin on Kanahoee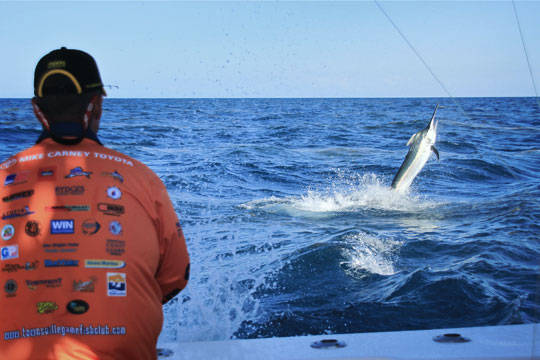 8 minutes before cease fishing, Chris Carney hooks up to this 50kg black on 6kg line
We raised Chris' fish right along the current line in all the algae murk.