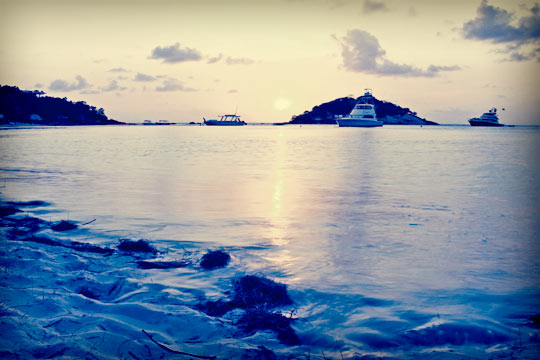 We are visiting the gorgeous Lizard Island for a few days and I took this picture of the Fascination returning to the island from a day on the reef yesterday.  Born To Battle is shown behind and Cjig is just out of shot.
On Fascination, Capt. Craig "Brutus" Newbold has hosted the same guests for the past two days and while they have spent the majority of the time diving on the reef, on Friday they set a precedent for the rest of their stay releasing two black marlin in only 1 hour 20 minutes of fishing. Yesterday, they followed it up with another 400lb black in just one hour fishing on the edge!  The other fish were in the 250-350lb range.  Brutus tells me this puts them at 6 already for the season in just 14 hours of fishing!
Likewise, Grant and family on Cjig have been enjoying spending some time at the island and on the various reefs not always marlin fishing, but getting in some sport fishing, diving and snorkeling as well, but I hear 11 year old Julian is now up to three marlin for his school holiday trip so far!
Down the other end of the reef, Tradition and Square Bear both started off their 2011 heavy tackle scoresheet yesterday.  On Tradition, Capt. Tim Richardson tells me they released a 300lb-er at Lena Reef, and raised 3 more that did not eat.  Nearby, Ryan on deck again this year on Square Bear with Capt. Craig "Sparra" Denham reports they fished their way up to Cooktown and put the baits in the water for a few hours this afternoon at Lena and saw 3 fish catching one that Sparra put at 800lb!
Back to Lizard Island — the boys enjoyed watching the footy semi-final at the Marlin Bar (barn) on the new 64-inch flatscreen TV that Peter Teakle has installed (thank you Peter!) For teams fishing the Lizard Island tournament, if you need your footy final fix, the game will be shown prior to the briefing at the barn so if you get into the island early, you know where to go!  Also, I have info on getting fuel and supplies–contact me and I'll give you all the details.
Innisfail Day 2
Another four billfish were tagged on Day 2 and so now there are 8 boats each with one fish tagged (reminiscent of last year?  I seem to recall there were 12 with one each by Day 3 last year).  Again, there were three sailfish and one black marlin tagged.  Ben tells me that there were a lot more fish around than point scoring indicates but with converting–more rubber hook syndrome!  The leading boat at present, which includes points from the other gamefish as well, is Jimmy (who are in the under 7m category), followed by The General (also under 7m).