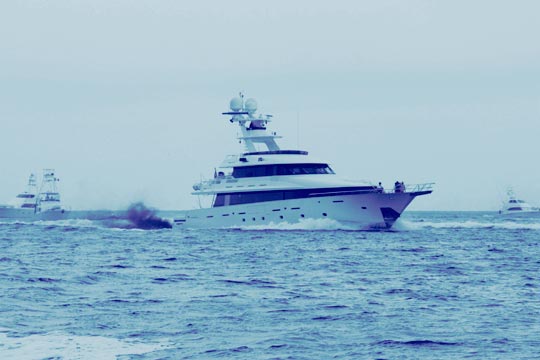 Although the day started out pretty slowly, a flurry of bites around the 4 o'clock mark made for a much more interesting afternoon–they had to wait, but it was worth it as there were certainly some big fish amongst them!
Capt. Tim Dean on Calypso, fresh off a boatside 'release' for his angler Craig's biggest marlin on Sunday, tagged a fish that he put at 950lbs! The fish gave a great arial display boatside and all on board were absolutely stoked! About the same time, Capt. Ian "Wobbles" Ford on Hot Shot called in the tag on their first fish of the tournament which he put at 800lb for his angler Ron Delamare.
Radio boat for the tournament Castille III also got on the board with a 400lb-er for angler Chris Caron. I thought we might be in for some radian fun with Capt. Dean Beech radio-ing in his tag details from the tower to Tournament Director Bob Lowe on the bridge, but alas–maybe next time Deano? Also on Number 10, Capt. Tim Richardson on Tradition released a 350lb-er for his lady angler Lydie Magers and missed another that he put at 700lbs. Another lady angler Nina Mattingley, but this time with her first ever marlin, got on the board on board Fascination fishing at Day Reef with Capt. Craig "Brutus" Newbold. Congratulations Nina!
But the day once again belonged to two boats who fought it out for the top of day honours with two fish each. This time between the two private boats with Spartacus pipping Hattitude for their second tag with 12 minutes in it. (Which really shows the fish came on at the same time along the reef.) Owner Ralph Czabayski called both fish on Spartacus at 200 and 400lbs. Andrew Harvey caught both on Hattitude at 700 and 150lbs which I believe, combined with his fish on Day 1, will put him in the lead for Champion Angler.
There were 13 tags all together on Day 2. The consolation prize goes to the team on Reel Cross who fought a fish almost the whole time between the final two skeds only to lose it at the boat.
Current tournament standings (in order): With 2 tags, Amokura, Kanahoee, Viking II, Fascination, Spartacus, Hattitude. With 1 tag, Reely Black, Bill Collector, Castille III, Little Audrey, Top Shot, Calypso, Hot Shot, Askari and Tradition. That makes 15 of the 24 boats competing on the board.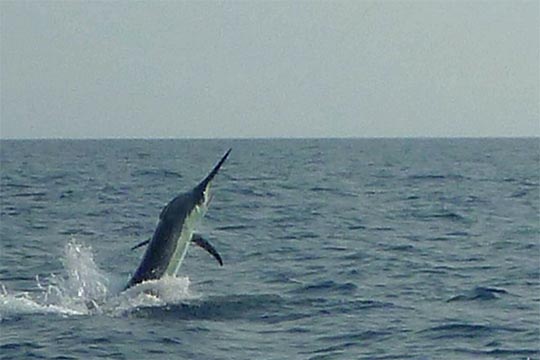 Outside the comp, Suzie sent me another report from the boys and girls in blue, with one of the local Sergeant's releasing this fish that they put at 300lbs off Euston Reef over the weekend (above). Great stuff!