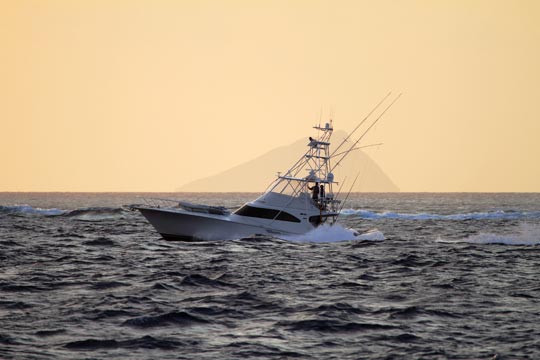 Leaders run in — Askari in flight on the way in after a top day.
There were some outstanding efforts on Day 4 of the Lizard Island Black Marlin Classic including Capt. Corey Hard's team on board Askari who added 5 tags to catapult them to the top of the leaderboard and Capt. Tim Dean's team on board Calypso who tagged an estimated 1100lb-er as well as two smaller fish!  What a day!
On Calypso angler Robert Rich watched his team-mate Craig Reager catch his biggest fish to date, 950lb-er on Day 2 and thought it couldn't get much better. Well it does–Robert topped that and then some with the 1100lb-er yesterday that also left its calling card in the transom door.  Capt Tim says the guys are topping their biggest fish each day but I'm not sure where they can go to from here!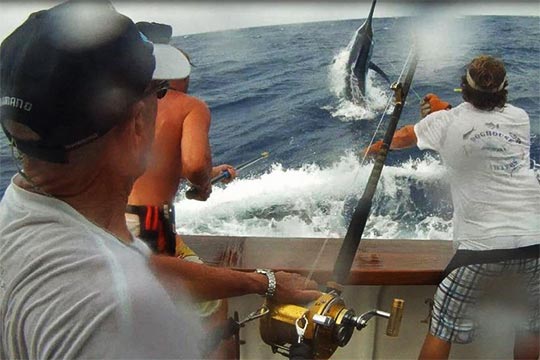 Barry Alty on Mistress fighting his 900lb-er on Day 3. As a side note, Barry is taking photos of any boat fishing alongside him. Just email him–barryalty at bigpond dot com–and he will send you the pics next week when he's back on the coast. Likewise, I'm doing the same from KEKOA although we are not fishing the tournament and you can email me for photos also–info at blackmarlinfishingblog dot com.)
The action was almost non-stop from the outset with Kanahoee and Mistress both hooking up within minutes of start fishing. But things really hotted up around 2pm and then it was on for the rest of the day.  Askari found a patch of fish and worked it all day calling in tag after tag of mostly smaller fish.  Capt. Ian "Wobbles" Ford's Hot Shot had their own patch of fish-producing goodness at Number 7 Ribbon alongside Capt. Trent Vischer on Hellraiser who added another three tags to their tally yesterday–including an 850lb-er to John–to make it 5 tags now for them at Number 7 Ribbon putting them into contention. Not bad for the team who had to sit the first day of fishing out due engine troubles! Little Audrey made sure everyone knows they are the boat to keep an eye on with two more fish yesterday including another big fish to Ken Klein that Capt. Daniel Carlson put at 950lbs!
Onsite are making up for lost ground also with three tags yesterday including two big fish at 750 and 850lbs.  And youngster Connor Craven fishing on board Viking II has put himself into the lead in the Champion Angler stakes with another three tags yesterday.  That gives him six for the tournament so far.  Unfortunately, gear box problems may put them out of the fishing for at least some of today.  Ralph Czabayski with Capt. James "Jimbo" Bladin on Spartacus added another two tags yesterday to keep himself in the running for champion angler as well.  Also with 6 tags altogether he is third on countback from Connor and Askari's Ray Camilleri who are making it one hotly contested prize!
On the ladies side, on Capt. Tim Richardson's Tradition, Lydie Magers stormed back into contention with a great day on the water. Lydie finished with three tags at 350, 450 and 800lb to put her second on countback to Kanahoee's Amanda Thompson (both with a total of 4 tags each).
Taking a moment to look at the big fish this tournament has produced so far – Australia's still got it!  Number 1 for giant black marlin in the world without a doubt! 17 fish over 700lbs so far.
Calypso 1100lbs, 950lbs, 700lbs, Little Audrey 950lbs, 850lbs, 800lbs, Kanahoee 950lbs, 850lbs, Askari 900lbs, Mistress 900lbs, Hellraiser 850lbs, Top Shot 850lbs, Onsite 850lbs, 750lbs, Tradition 800lbs, Hot Shot 800lbs, Hattitude 700lbs.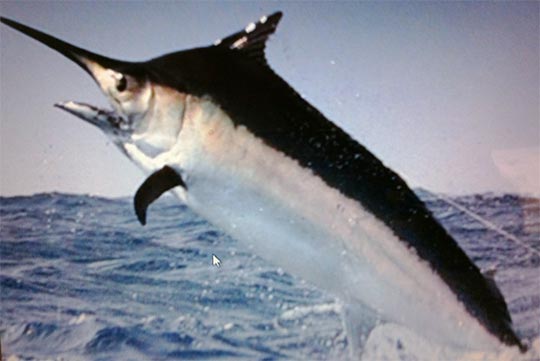 There have been some big fish lost as well. I mentioned previously about Reel Cross who fought a big fish for several hours on Day 2 only to lose it beside the boat. Darren Lewis who is lending his experience on deck to the novice team sent me this photo of the fish.  (It's a photo of a photo–ahh technology!)  And another relative newcomer to the Lizard Island tournament Game Over also fought a fish for several hours went into the darkness after cease fishing. I'll try and find out what happened to that fish today.
The current standings at the top of the leaderboard are:
In the lead, Askari on 9 tags followed by Little Audrey on 7 and Viking and Spartacus on 6.  On 5 tags each are Top Shot, Hellraiser, Calypso and Hot Shot. On 4 tags are Kanahoee, Onsite and Tradition.
There are 20 out of the 24 boats on the board now!
—
Outside the tournament big fish too for Capt. Tim Ryan on Joe Joe who released an 800lb-er on Opal Ridge yesterday!