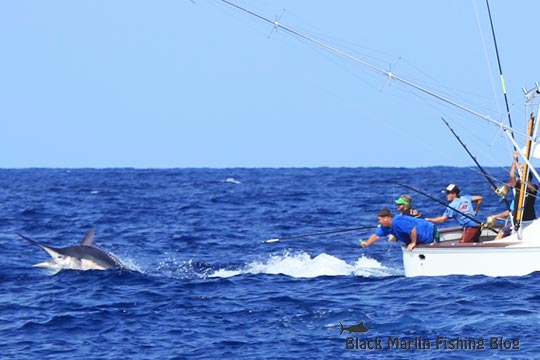 There may have been fewer fish caught on Day 5 of the Lizard Island Black Marlin Classic, but was lacking in quantity, certainly wasn't lacking in quality with another 4 fish released over 850lbs! Askari is streaking away from the competition adding another 3 tags on Day 5 to give them a total of 12 so far for the tournament. Their nearest rival, Little Audrey will need to catch 5 fish more than Askari to take the lead.
Not only did Capt. Corey Hard's team end up on top on the daily for the second day running, but they also released another monster that Capt. Corey put at 950lbs as well as two more at 300 and 450lb. I took this picture alongside Askari as they tagged the fish. Hattitude released another big girl at 900lbs for Andrew Harvey. This is their second big fish of the tournament. Also a second big fish for the week and Danny "Rod Stealer" Curtis released a 900lb monster on board Hellraiser at Number 7 Ribbon. Capt. Dan on Little Audrey, who are maintaining their second place, told me they also dropped another big one next to the boat, tagging just the one at 150lbs.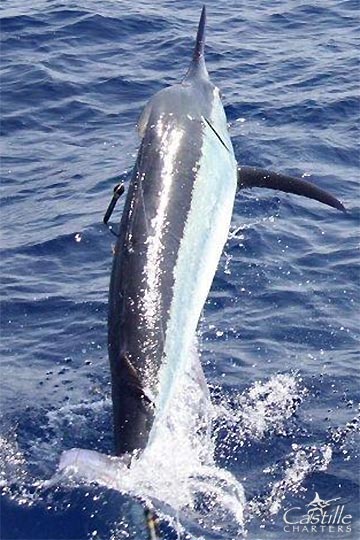 Capt. Dean Beech's Castille III was another big fish releaser on Day 5. They sat tagged a solid 850lb-er for Chris Caron, making the most of the great conditions for some great pics including this one taken by Tara Manners. The shot shows the satellite tag on its side. Five boats have a satellite tag each and and so far three of the tags have been deployed. These tags will track the movements of the fish over the next several months including distance traveled and depth.
And on Day 5, Reel Cross converted a 200lb-er to put them on the board and Top Shot, Kanahoee, Viking II and Reelistic also added to their tally as well. The current standing at the top of the leaderboard with two days to go is: Askari on the lead with 12 tags followed by Little Audrey on 8, Viking and Top Shot on 7. Spartacus, Hellraiser and Kanahoee on 6. Calypso, Hot Shot and Hattitude on 5. Onsite and Tradition on 4. Moana, Amokura and Reelistic on 3.
—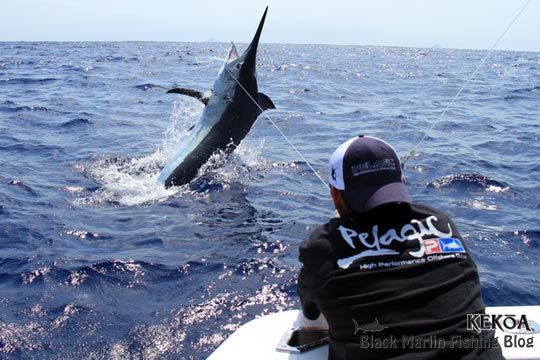 Outside the tournament there are certainly boats still fishing and catching fish but are leaving the radio airtime to the tournament boats. On KEKOA, after picking up a few fish over the last few days, we had a better day yesterday going 4 from 4 at 250, 800lb, 150 and 250lbs. Roger's 800lb fish giving us a spectacular display at the back of the boat for the GoPro and cameras (my photos above with Dingo on the leader and giving us a first glimpse below.) Down on Linden Bank, Capt. Simon Carosi's Brilliant Company released two including a 500lb-er. Hopefully once the tournament is over we'll be hearing a bit more from all the way up and down the reef!