The fish came back on the chew yesterday (Monday) after the northerlies sent them hiding on Sunday. But it was another spectacular morning on the reef with just light winds from the north which have made it perfect for a morning swim or spearfish.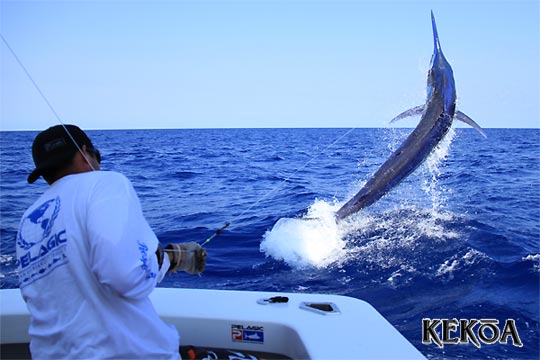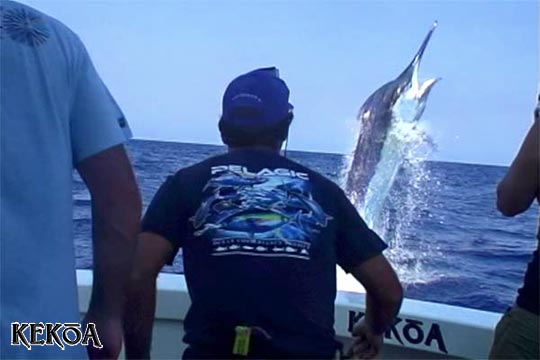 Once the baits were out, it didn't take long before we were marking fish.  On KEKOA we fished the Marks at Number 10 Ribbon Reef and were joined by Amokura from the island and Calypso from further down the reef.  Just on lunchtime, an estimated 800lb-er crash tackled our stinger bait but got wrapped up and missed.  Not too long after and another spectacular bite on the big bait and we were on to a 600lb-er for Bomber, his first marlin.  The fish didn't give him an easy go of it but it was brought to the boat and released inside of 10 minutes.  But then it was big fish Jason's turn in the chair and he didn't let us down. Another spectacular bite on the stinger and we were on again! 45 minutes later and we had released our first grander of 2011 with Capt. Luke putting this girl at right on the mark!!
(Photos: Above, my photo with Jarad "Dingo" Boshammer on leader and the second a still from some of the video footage of the same big black marlin that I got off the camera last night.)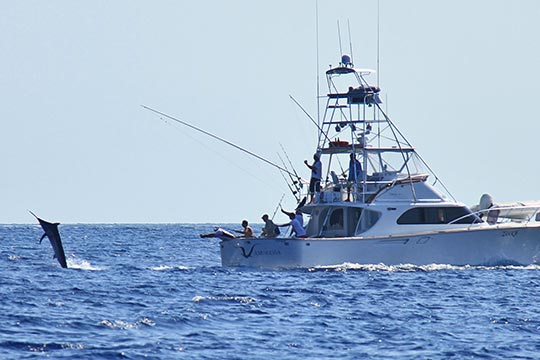 Nearby Amokura released two while we were fighting Jason's fish. They both gave a nice aerial display at the back of the boat and was able to sneak off some pics. Capt. Chris put both fish at around the 350lb mark.  And soon after Reel Chase came through and hooked up next to us as well and released a 500lb-er for the guests from Tassie who are out on a 5 day trip.  Capt. Brett Goetze tells me they had just wrapped up 3 day trip into Cooktown for changeover with the guys from Adventure Angler TV (which features on Foxtel) on board filming an episode chasing GT's and black marlin. The got some awesome footage of another 500lb-er and unfortunately lost a real nice one at the boat with the leader just out of the water.
Further down the reef fishing in the middle, Capt. Daniel Carlson on Little Audrey is keen to follow up on his tournament success.  They released two fish estimated at 200lbs each but Daniel says the were marking plenty more and got some great footage on the Tow Camera of the marlin.
I'm a bit under the weather today (not from the celebrations I promise!) so I hope the report makes sense.  I have plenty more photos to come still from last week as well as photos and footage from our big girl yesterday so stay tuned. If you're on the daily digest mailing later this morning, I hope to have more downloaded by then!