I heard Russell Caphorn on his 52 Kaizen on the radio who said he'd had a pretty quiet day fishing Number 8 Ribbon with only the one bite…but that one fish, it was over the mark!   Updated: We heard from Capt. Jared Weir on Shaka who went two from four on small fish in the middle yesterday. Jared said they made their way up from Escape the day before which was looking very fishy. Photo from John below – thanks John – one of their two which were back to back!  Capt. Jared also said that Capt. Chris "Sharky" Miles on Kanahoee released a big one on Number 5 yesterday as well. (That's all I know folks, will try to find out more.)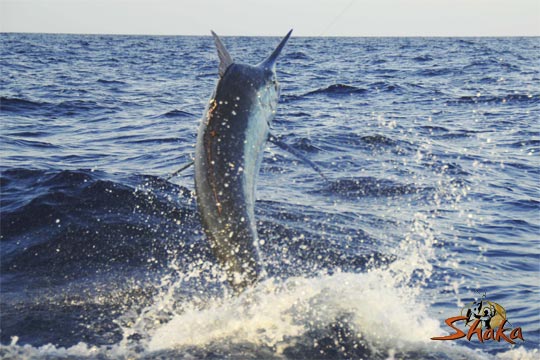 Up the reef a bit further, on KEKOA we experienced some great (read crazy!) black marlin action on the water today.  As Capt. Luke says, some fish just aren't meant to be easy! We ended up 4 from 8 which included a double hookup from a triple header!  (some photos below)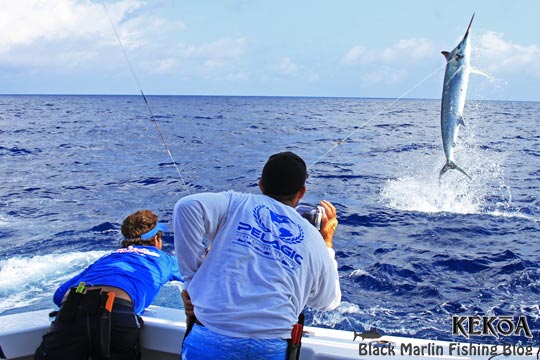 It was amazing to watch them go off one after the other as the fish piled on–left skip bait, scad…stinger!  All captured on the Towcam cockpit dome camera.  Eric (Jaja) started the action off with a fish we put at about the 700lb mark which did some great jumps out the back before going deep. Unfortunately she got wrapped up in the leader and the hook came free.  From then on the action was pretty consistent.  Jacques was in for a pretty tough battle with a stubborn fish giving him trouble on his first time on a chair rod.  Eric2 displayed some great endurance angling reeling the second fish from the double back to the boat twice while we chased the first. And Kevin just goes hard!  400, 300, 400, 200lbs.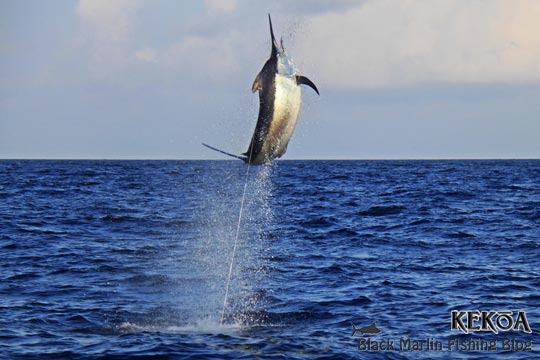 These are just a couple of the great shots I got. We had some grey clouds pass overhead and created some great light for photography.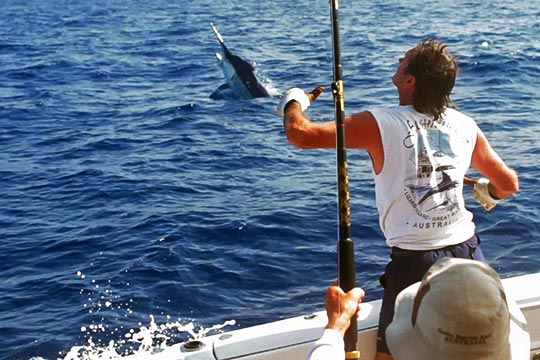 Capt. Craig "Brutus" Newbold on Fascination released this 600lb-er at Heartbreak and dropped another on second corner which Brutus said had plenty of boat activity (photo above of the legend Billy Fairbairn about to take a wrap – thanks Brutus!)  Capt. Dean Beech on Castille III also released this 300lb-er below for Steph at First Corner.  Capt. Dean said they had a few more bites and the action was just hotting up right on dusk at stop fishing!
On Reel Chase Capt. Brett Goetze tells me they had a great time at Osprey Reef. The wahoo and yellow fin tuna were out of control–they would only get one lure in the water before it was piled on, again and again!  They also got onto some nice sails and missed a couple opportunities at marlin.
Down on Linden Bank, Cairns local Shan fishing on his boat Extreme has been enjoying some time at the Bus Stop as well.  Shan said he was starting to believe that his season was cursed but he finally kept the hooks in one yesterday, releasing a 400lb fish and going one from two all up.  Shan said that as he was retrieving a tripped skipping tuna for what felt like the hundredth time he said 'imagine if it got smashed now' and less than two seconds passed and it did!  He slipped it into freespool and got it boatside in around fifteen minutes after a nice display of jumping, and released shortly after. Well done Shan!
And Daniel from Larva Lures sent me another YouTube clip of their Gold Coast blue marlin action. Thanks Daniel!