Starting at the bottom of the reef and working north…
Retired legend Capt. Laurie Woodbridge returned to the edge on board the Tainui with Capt. Peter Kirkby yesterday. Tainui is back on the water after some engine troubles kept them in port for the early season.  Word has it that on their first day out they fought a grander black for two hours before unfortunately losing the fish! That's some way to start!  Capt. Simon Carosi's Brilliant Company also jumped a 500lb-er off at Jenny Louise.  And also down the bottom, fishing at his Bus Stop on Linden Bank, Capt. Adam Jordan on Iona 2 released a 650lb-er and lost another fish and raising another nice big one. Rhino sent me this gorgeous underwater pic of their fish.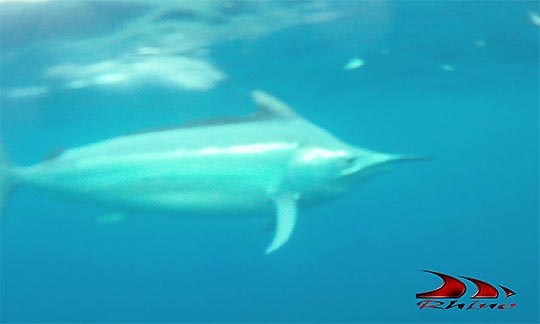 And on Little Audrey fishing at Number 4 Ribbon, another big fish. This one that Capt. Daniel Carlson put at 950lbs for angler Terry Harvey.  That was in addition to a 400lb fish for Bruce Murphy to kick things off for their latest trip.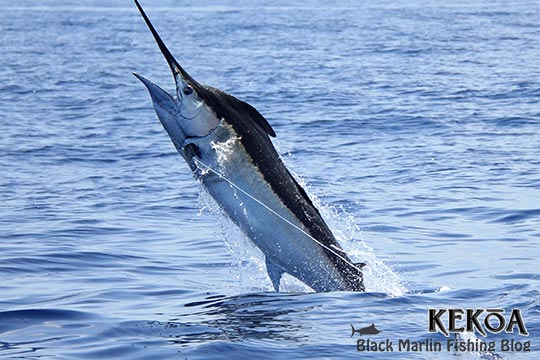 On Number 5 Ribbon the boys from New Caledonia kept up the momentum on KEKOA with us releasing 4 from 4 by 2pm which gave some more great photo opportunities (above and below) boatside in the glamour conditions. Unfortunately we couldn't convert it into 5!  Or seven as it was with the end stats for us, 4 from 7 with the last three failing to hook up. That's two four fish days in a row and put us at 10 for the end of this trip.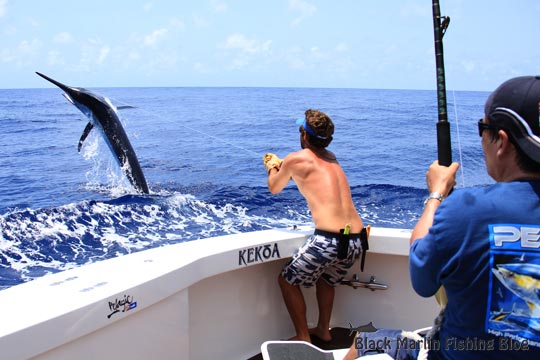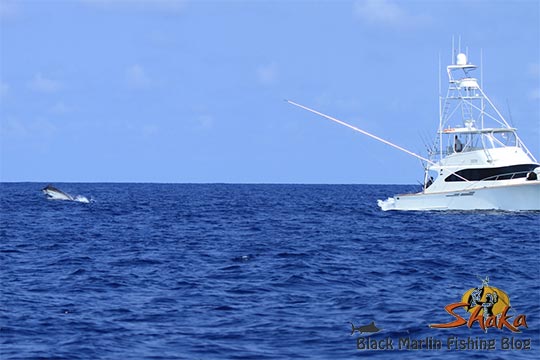 Fishing nearby, we saw owner John Hendry hook up to a very solid 500lb-er  on board Shaka.  I took this shot above as Capt. Jared Weir chased her out wide.  John is fishing with a torn bicep (!) but still managed to get her boatside for the photo and released (below).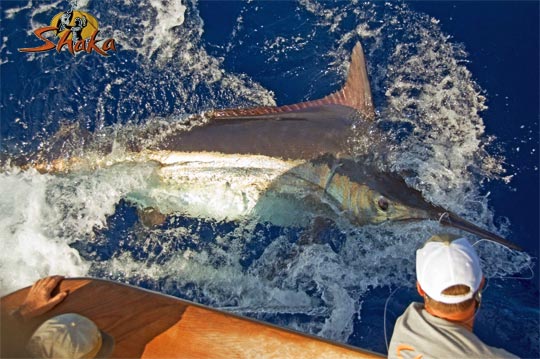 More information from Kanahoee's big fish on Friday, Capt. Chris "Sharky" Miles released three including two big girls at 700 and 950lbs!  They added another smaller fish in the middle yesterday as well.
Up the top at Number 10, Capt. Tim Richardson on Tradition released a 350lb-er for Stephan.  Has everyone been following Scott Kerrigan's blog of the trip?  Scott is on board for 14 days and it taking some amazing photos of the reef experience. Capt. Tim has Nov 3-10 open on Tradition, if you are interested, contact him here.
And lastly another Rhino preview trailer video clip from Iona 2.  How good is that?