Firstly a very happy birthday to Capt. Dean BEECH (!) – hope the big girls bite for you on your birthday Deano!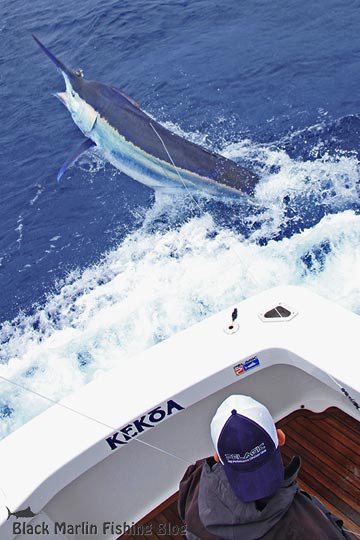 If we thought it was rough on Tuesday, Wednesday gave a new definition (very reminiscent of last year's Lizard Island Tournament if you ask me!)  And if you thought it was rough on Wednesday, stand by for Thursday. Today is looking…well, insert your own word here.
As for the fishing, on KEKOA we headed down sea all day and raised 6, had bites out of 5 and successfully released four including this fish (above) for Kent that Capt. Luke put at 850lbs.  She gave us a good soaking as she headed right in towards the reef edge and we surfed down the waves in reverse chasing her.  This fish tied Kent's previous best which was an 850lb blue marlin at Ascension Island.  Later on, just to add a bit more fun in the wet, we put Thomas onto a 250lb black on 50lb stand-up which was released in short order without the use of a snorkel!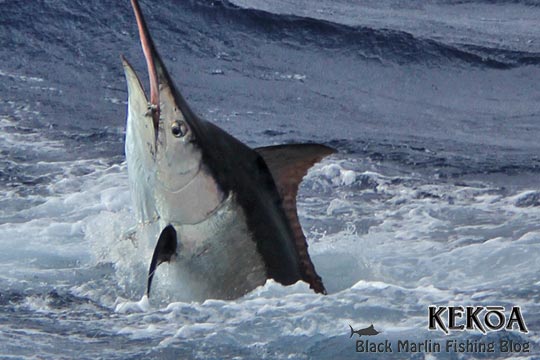 Capt. Dean Beech on Castille III also released two fish for angler Bill Borkan at 400 and 700lbs.  Bill is up to 10 in four days fishing now to 950lbs. They had an eager 14 year old ride along from the Wizard Tackle boat on anchor at the island and he got a taste of heavy tackle black marlin fishing tagging both of the fish.
This is a photo from Castille's underwater Towcam camera of the bite!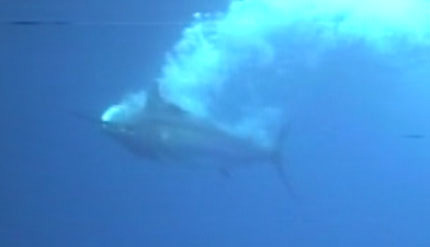 Fishing next to us, Capt. Ross Finlayson on Top Shot also released three from four black marlin yesterday.  Ross enjoyed the down sea journey just as much as we did I'm sure! I hope he doesn't have to do what we do today, up-sea all the way back!!