I haven't heard any reports from boats fishing the middle Ribbons in the past few days, but we move down that way today and into Cooktown tonight for changeover, so hopefully some catch up reports tomorrow. I'm still going through my photos as well so I'll be able to put up some more of them later.  In the meantime..
Reports from the top and bottom.  At the bottom, I heard from Jye on Cool Runnings who tells me they caught two on Linden Bank yesterday that Capt. Troy Dallman put at 900lbs. Likewise, Capt. Tim Dean reports they went two from two in the rough and raid yesterday on Calypso and jumped off a nice fish the day before as well.  Tim says today is looking better, only 25knots! ;-)
Up the top, although the squall which came through about 5am had us thinking the weather on the edge was going to be worse Thursday, it was actually a little better. The current seemed to have swung around to the north which made things a little more comfortable although it also meant that traveling south as we were, the troll speed was cut considerably.  Conversely, Bobby Jones' Iceman was traveling north out from Cooktown and made great progress ending up at the bottom of Number 10.  We saw Bobby catch his second fish of the day just before heading into the anchorage for the night.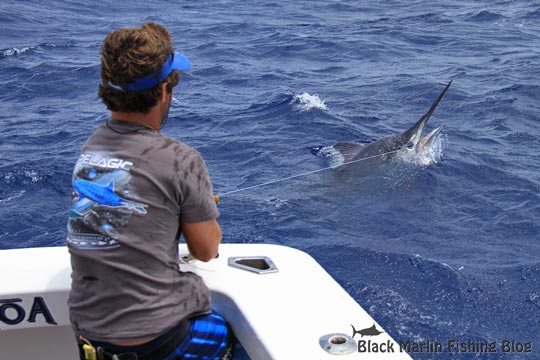 Straight-lining it from the top of Number 10 to the bottom for the day on KEKOA we went 4 from 7 again.  Kent and Thomas are really enjoying the fishing and are no longer bothered by the big green waves over their heads in the chair ;-)  We also raised two nice big fish but unlike the smaller males, the big girls didn't bite very aggressive, just grabbing the baits and letting go, and no hook up.
Kaizen traveled north past us as well and had been raising the fish without conversion. I'll try and find out how they ended up.  Fishing from the Rock, Capt. Dean Beech on Castille III celebrated his birthday with two more for Bill Borkan  (from 8). That's the end of Bill's trip to the reef in 2011 now–a great total of 12 fish in 5 days!
Capt. Deano also shared with me some pics from this week's fishing that put the weather into perspective. You can see Castille's fish jumping below, with Tradition's tower just showing in the background over a wave! Capt. Tim fished Day Reef for a change of scenery yesterday for his angler Stephan.  They fought a nice big fish for 30 minutes before unfortunately pulling the hooks.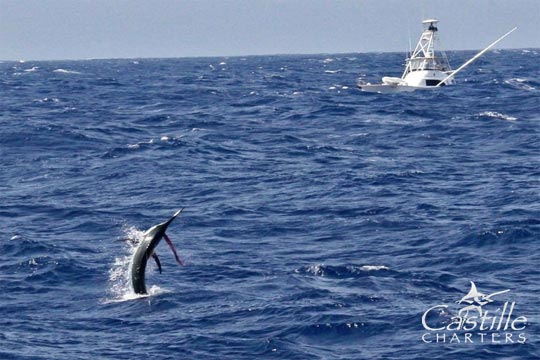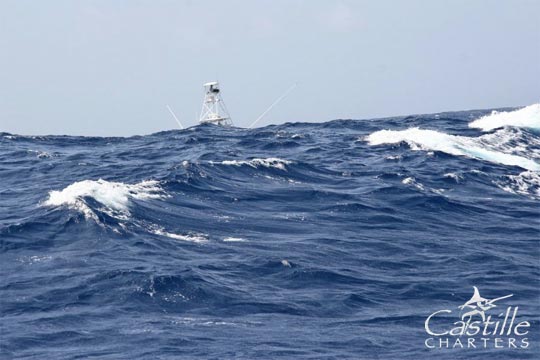 Gold coast blue marlin: I had a report from Tim Hiscoe who fished a day on the 63 Bertram Revive out of Gold Coat yesterday and went 1 from 2 blue marlin. They tagged a 250kg blue for the owner Will Vautin and also lost a really nice blue with lots of line out after a short but violent run barely 5 minutes later. Capt. Lee Bradshaw put them on the fish and Tim says it was a great day. Thanks Tim – hope to see some photos soon!
—-
Sorry the report is late everyone. The rough makes everything harder. Hopefully I can get back into the routine of posting by 8am Queensland time next week!