A catch up report from Capt. Jared Weir on Shaka who's been fishing in the middle for the past few days with some communication issues, they've been plugging away steadily with two fish on Thursday and one the day before. Capt. Jared also told us that Andrew Yeh and the boys on Outside Edge, the 6.5m Kevlacat, had been having some fun in the rough and getting into some fish at Number 7 Ribbon. Andrew's younger brother Chris is spending the season on deck on Shaka this year.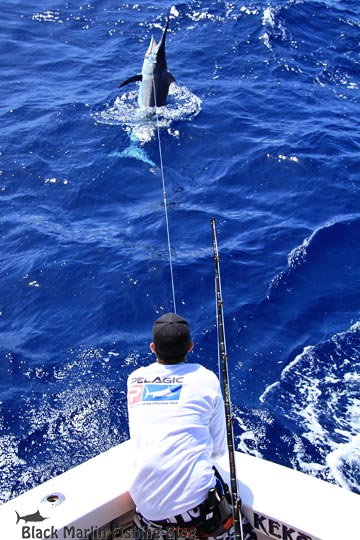 We also caught up with Capt. Corey Hard and crew on Askari in Cooktown overnight who caught a sailfish on a big marlin lure as they traveled up. On KEKOA, we fished in the middle for our last day of the trip with Kent and Thomas before heading into Cooktown for 1 black marlin released and another lost at the back of the boat. Still a good result with 9 released altogether!
Capt. Craig "Sparra" Denham on Square Bear is also in on changeover after five days on the reef with Jay and Candace Meyer. Tara tells me they got the one bigger fish about 500lb on the first day and then a bunch of smaller fish after that. Good to see Jay and Candace back on the reef again! Capt. Tim Richardson on Tradition was fishing up at Number 10 Ribbon and saw the one fish and tagged it. I've also got some more footage to share from Brady on Little Audrey and Rhino on Iona 2 (at bottom, scroll down).
Gold Coast Blues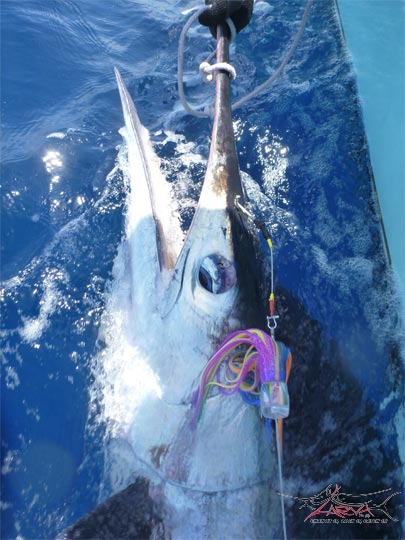 More reports from the Larva Lures boys as once again club boats are taking advantage of the bettter weather down there. Larva went 3-3-1 and God's Hands and Sea Eagle 1 from 1 each. Daniel says a lot more boats will be going out again over the weekend so we look forward to hearing how they go. I'll say it again, the Gold Coast is having a great year for blue marlin!
Footage
Another trailer from Brady on Little Audrey:

And an intro to 3D marlin vision on Iona 2 from Rhino: