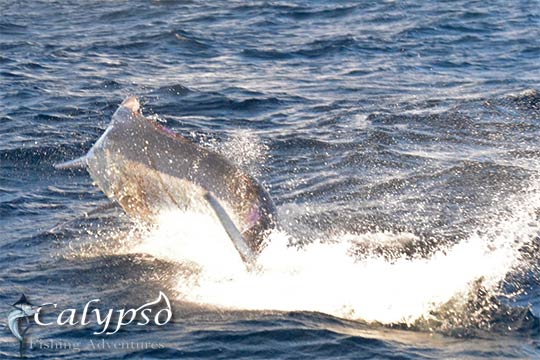 A few more big fish reports from yesterday.  Capt. Tim Dean on Calypso is bobbing around somewhere to the south of us. Tim tells me that they got a "nice big marlin" yesterday and one the day before as well (photo above) for angler Billy Red fishing at Linden Bank. Hopefully more details to come! I also came across this article about Tim's angler Bob Rich's big fish experience during the Lizard Island Tournament.
Likewise, Cool Runnings with Capt. Troy Dallman had a big fish day yesterday fishing Opal Ridge. Jye tells me they released a 950lb black marlin before heading back in to Cairns for the end of their trip.  And fishing at Number 8 Ribbon, Capt. Craig "Sparra" Denham on Square Bear released a fish that he put at 900lbs yesterday for angler Nick Stanczy from Bud and Mary's marina — congrats Nick! I will try and get some photos.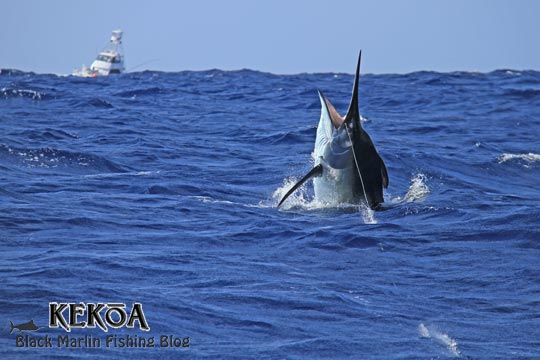 Up the top, on KEKOA, we had just the one bite yesterday but it was worth it with an 850lb black marlin for Brendan. Brendan has been fishing with Capt. Luke Fallon for nearly 10 years now and is a very experienced angler in the chair. Still, this fish didn't give him an easy time of it, with some crazy blue marlin-like antics taking off mid-fight with 300 metres of line out. But Brendan put the years of training with beer and chocolates to good use and brought her back to the boat for the release after 25 minute fight.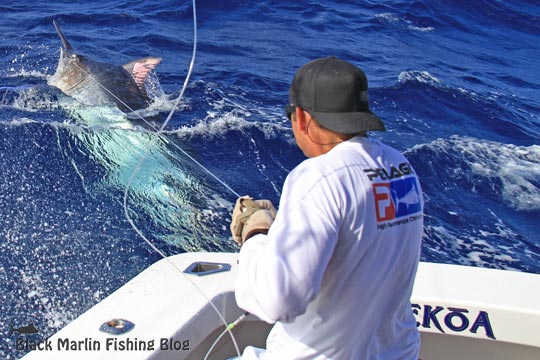 Barry Alty's Mistress is ever consistent adding a fish to the tally each day. Barry and I have been talking about the aggressive little fish bites of late in comparison to the relatively lazy bites of the big girls. Many of the small fish we have released have been lassoed rather than hooked, with the habit of the little guys to pounce on the biggest bait on offer.  Barry tells me their fish yesterday was another classic example.  He tried to eat a big scaly first, but just mashed it up and wasn't there when Barry wound up.  However when Johhno was putting the scad back, greedy guts was right there so they ended up with an overrun. After peeling off all the topshot and clearing the line, he was still there!  Barry says its quite the task to get the rod in the gimbal when the fish is directly under the boat instead of out the back!
More blue marlin reports from SEQ: Capt. Ken Brown on Megumi went 2-2-2 yesterday (Sunday) releasing an estimated 350lb blue marlin and a short billed spear.  Mooloolaba GFC President Nathan Douglas tells me that their club boat Akoya, skippered by Rhys Jones released a blue marlin that he put at 550lbs as well as caught 2 80lb yellowfin tuna off the Gold Coast on the Riv grounds, all on 24kg standup. I also heard there were a few more added by other boats from the Gold Coast GFC on Saturday.