Following up from his big fish day Sunday (Capt. Tim Dean has officially called Billy Red's fish over the mark), fishing again at Linden Bank, the team on Calypso put angler Zac onto another big girl yesterday. This one Capt. Tim put at 850lbs. Tim says that Zac has been fishing with him now for 6 years and this is the biggest fish for him so far, although his fishing companions have released a grander every year so far. They have also released another 4 smaller fish on the trip.
Also fishing at the southern end of the reef, Cool Runnings released another fish they put at 350lbs. As for up the reef along the Ribbons, it was a very quiet day with the dirty water pushing all the way through up to Number 10. Hopefully today is a better day!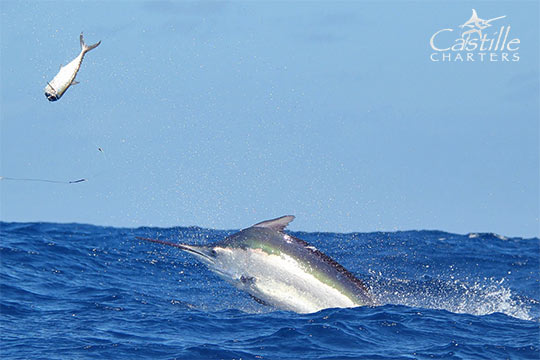 The popper fishing has been pretty good along the outer edge of the reef now that the weather is more friendly — good sized GTs.  Capt. Dean Beech on Castille III got some really nice ones at Day Reef yesterday, but the photo of the day today is of a missed fish.  See the bait go sailing!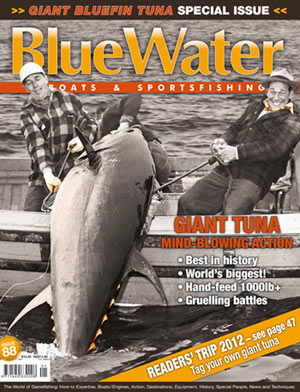 Issue 88 of BlueWater magazine comes up for sale next week. This is special bluefin tuna issue as Tim Simpson traveled to Novia Scotia for the bluefin season this year. Tim says what he encountered exceeded his wildest dreams (the issue also includes details on a planned readers trip for 2012).
Many Cairns regulars, including the great Billy Boyle (who will be fishing on the reef later this season on Allure with Capt. Darren "Biggles" Hayden), also made the trek to Nova Scotia this year. Our (KEKOA) own Jarad "Dingo" Boshammer, who when he is not on the reef at this time of year, is based out of Florida, made his first trip to the north this year.
Dingo says it was truly a privilege to go up there and experience it. He was fishing with Capt. AJ Francis on Fisher's Grant and for the week they were there released 10 giant bluefin at 500, 700, 800 (x2), 900 as well as 4 over a 1000 including a 1200lb-er!
Also, while you're reading the next issue, check out the article by little ol' me about the Lizard Island giant black marlin experience.