Plenty more big fish around Wednesday, just in time for the start of the Port Douglas Marlin Challenge today. That one snuck up on me sorry (is it really November already?)  Good luck to all the boats competing, there's the feeling about that its all about to go off!! There are 14 boats competing and we look forward to hearing how they go.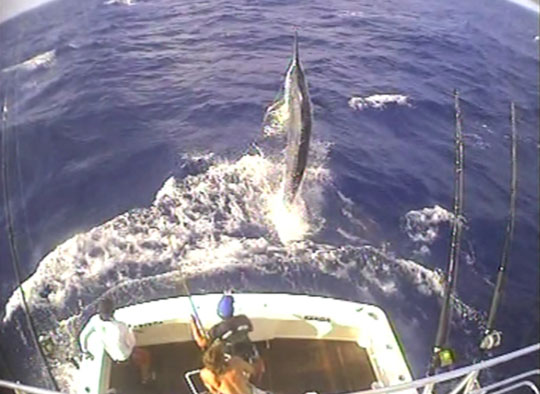 On KEKOA, we certainly got our mojo back on yesterday with two from two including a fish that Capt. Luke said was nudging the mark. So we called it 950lb++.  It was one of those un-predictable fish from start to finish. Luke marked it and put the boat into a turn and she came up on the stinger, just lazy and content to follow.  Then she noticed the scad and had a bit of a swipe. Luke told Braden to wind the scad straight up away from her and that did it to get her whipped up, she piled on the stinger and went down, and stayed down.  Just over an hour later, Chase (who is a seasoned blue marlin angler and crewman but this was his first black marlin) finally managed to get her up so that Dingo could get a wrap on the leader, and then she went nuts, swimming straight at the boat like she was going to jump on board and doing one awesome vertical jump clear of the water at the back of the transom (video still).  This is why we love marlin fishing!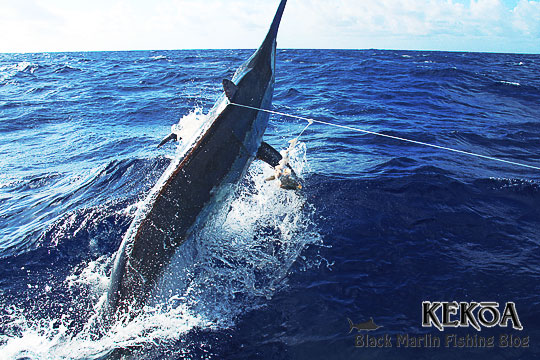 Fishing at Lena Reef, Capt. Simon Carosi on Brilliant Company followed up on his top day on Tuesday with a 700lb-er yesterday from a couple of bites.  Updated: I also heard from Capt. Tim Dean on Calypso who tells me he released a 850lb-er and 350lb-er on Tuesday for his birthday.  Yesterday, recovery day, saw them hooked up and fighting a big marlin for hours and unfortunately lost it.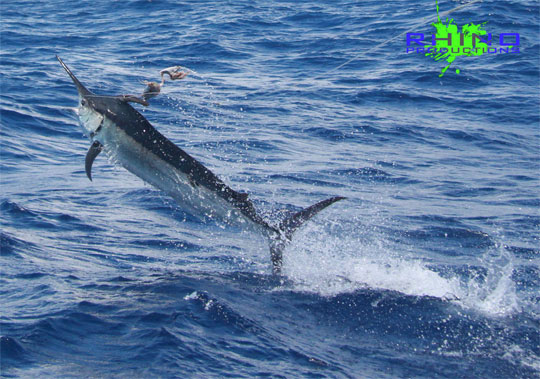 At Jenny Louise, Capt. Adam Jordan on Iona 2 released a smaller fish (above), lost another one about 500lb at the back of the boat and had a bite out of another fish.
Two more links for Iona videos:
http://youtube.com/watch?v=ybvj8PC88_Y Mark Griffiths.
http://youtube.com/watch?v=KU-NehyxyDo Dale Green
I heard Capt. Jared Weir on Shaka on the radio earlier in the day and he said he'd caught a smaller fish and lost a big one. It sounds like there were a lot of fish around yesterday and every one fishing had bite.  Once again, hopefully I'll find out some more as the day goes by (stay tuned for updates).
Videos:
Nick's 950lb-er on Square Bear last week:

Johann's 950lb-er on Gorilla:

Awesome stuff!