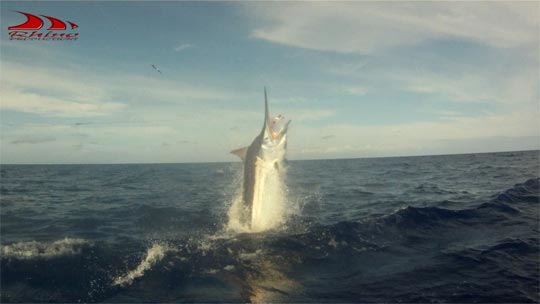 While it was a quiet Friday for many of the boats fishing the reef, there were a couple of boats who found the big black marlin. Capt. Adam Jordan on Iona 2 caught 3 from 4 yesterday at 80, 200 and 700lbs. Adam says that they also jumped off another fish about the 400lb mark. The Lake Macquarie guys from the boats Magic and Weapon, Robbie Hyland, Dale Green, Pete Sutcliffe & Mark Griffiths are having a great trip with 10 in the last six days. (Thanks to Rhino for the photo and another video link, I don't know how you do it Rhino!!)
Capt. Tim Dean on Calypso meanwhile was heading in early for changeover but still managed to go two from three at 400 and 150lbs to finish the trip on another good note.
Capt. Ian "Wobbles" Ford on Hot Shot fishing Euston Light released two at 200 & 350lbs. And Jye on on Cool Runnings tells me they also released one at 550lbs at the top of the bank.
Port Douglas Marlin Challenge: These are provisional results. Unfortunately the committee have not been in contact with all of the boats fishing and so these results may change. In the lead after the first two days is George Hickory's Kyrnia with two fish including one that Capt. Damon put at 850bls.  Following on one fish each is Joe Joe,  Gorilla and Hellraiser.  (Please forgive my spelling if I've got the lead boat wrong.) The boats have a lay day (golf day) today and will be back out tomorrow for the final two day's fishing.