Just a couple reports from the reef yesterday. Cool Runnings had the pick of the day at the top and bottom end when John notched up his second and third fish in two days with a nice one that Capt. Troy Dallman put at 900lbs as well as a smaller fish at 200lbs. Fishing nearby, Capt. Tim Dean on Calypso raised the big one but couldn't get her hooked and Capt. Simon Carosi on Brilliant Company reported a little fish that was all over his bait, when a big girl whooshed up and tried to steal it out from under him, and then they both disappeared. On the Ribbons, Capt. Bobby Jones released a nice that he put at 950lbs! And Capt. Corey Hard on Askari released a small fish before heading in for changeover as well.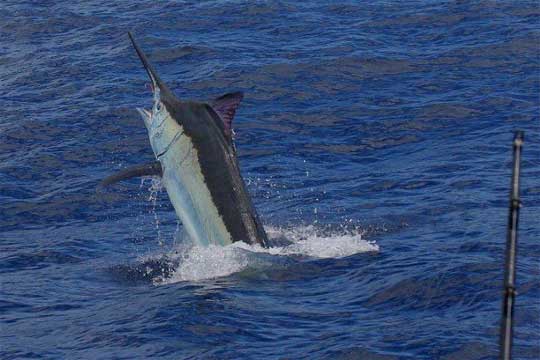 Mick Keogh's 800lb marlin on Lucky Strike
On the Gold Coast, Mark Moreland on Lucky Strike headed out to the sea mount and put electronics guru Mick Keogh onto a nice solid marlin that they put at 750-800lbs out at Jim's Mountain. Happy with their day, they started to head in and then released two more on the way back for Bruce Willis and his daughter Kelly (Kelly's first blue marlin) bringing their total for the day to 3. Congrats to all–what a great day! Thanks Bruce for the photo (above). Clarification: the Captains who've seen the photo have correctly identified Mick's fish as a black.
And Ben sent me a teaser trailer YouTube clip from his solo sailfish (2) on fly. Can't wait to see the full clip!