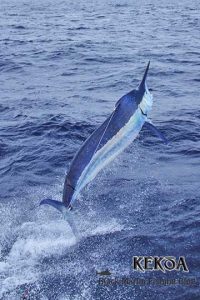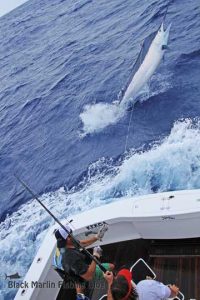 The fish seemed to come on the bite yesterday and on KEKOA we made the most of it with four black marlin released including another big girl that Capt. Luke Fallon put at 900lbs for Chase. This is only Chase's second black marlin ever, his first black marlin that he caught on the first day of the trip being 950lbs! Not bad for your first couple of black marlin — 950 and 900lbs! Richard also added another feisty smaller fish in the chair and Michael did the double, one in the chair and one on 50lb standup pitched to the fish while he was following the stinger. We also raised and had bites out of another couple of big fish.
Fishing at Lena Reef, Capt. Tim Richardson on Tradition also released a nice big fish that he put at 850-900lbs.
Boats fishing the Port Douglas Marlin Tournament saw a lot more action yesterday. Capt. Brett Alty on Mistress got things rolling with a fish early in the day ending up with two for Barry at 300 and 200lbs. Barry says the first fish was lassoed and the second ate a big scaly (he's not sure how they hooked it but they did!) Amokura and Reel Impressions also tagged to get themselves on the scoreboard, while tournament leaders Kyrenia with Capt. Damon Crusdev tagged another to extend their lead, and there were many more hooked up and lost. Paul Poulter on his boat Think Big is fishing the tournament and raised a 200lb-er they couldn't hook on Opal Ridge and then, just before cease fishing hooked up on a very big girl which unfortunately broke off on the leader after an hour's fight. (Tournament standings below).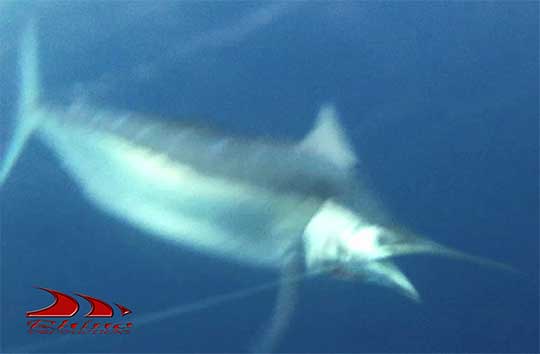 Also fishing the bank, Capt. Tim Dean on Calypso released one from a few bites and we saw Cool Runnings fighting one as well. [Update from Cool Runnings: Jye tells me they got a 750lb-er and a smaller fish yesterday as well as nice big sail. That puts them on 5 black marlin and a sail in three day. Top fishing!! ]  On his Bus Stop, Capt. Adam Jordan on Iona 2 also released one that he put at 250lbs (photo above and YouTube video).
At the Light, Little Audrey got a late start and released two in only an hour and a half's fishing at 350 and 200lbs while nearby, Shaka realised a small one as well.
Capt. Damon Olsen's Saltaire has been fishing the top for a little while now and made the move south in the last couple of days releasing one that he put at 600lbs at the bottom of Number 10 on Saturday and on at 500lbs on Number 7 on Sunday.
Port Douglas Marlin Challenge Results: Kyrenia is leading with three from Mistress with two and the following boats on one fish each, Joe Joe, Gorilla, Hellraiser, Reel Impression and Amokura.  Today is the last day of fishing. Good luck to all!
On the Gold Coast, a few more boats fished for the blue marlin on Sunday including Barco who went one from four. Vince tells me he heard of one other being caught and another boat pulling the hooks on two more. He says that there seems to be quite a few out there with a bit more size to them. Updated: More reports from the Gold Coast from Surfers Paradise GFC Club President Mat Stehmann. On Saturday, Murphys Law went 3-3-1 on marlin which was their first stripey about 100kg as well as two dolphin fish. Another Surfers Paradise GFC club boat Chaos went 2-2-2 on blue marlin yesterday also and reported both fish around the 120kg mark. Thanks Matt!
Meanwhile, the Findlay Brothers on Murrifin went out for an early season marlin fish off Broken Bay and ended the day with two from two striped marlin. How good is that!?