Lots of photos and video's at the end.
Capt. Adam Jordan has taken Iona 2 out for a wander to the Seamount. We won't know how he did until he gets back, but he certainly was doing pretty good when last we heard.  A 600lb black marlin for John St. George about 25 miles from the edge, and then a second that Capt. Adam put at 900lbs before we lost radio range.
Fishing on the bank, there were a number of smaller fish around yesterday with a few big fish raised and lots marking. Capt. Dean Beech on Castille III released two, a 250lb-er for Lucus from Sweden, his first marlin, and a 300lb-er for Cam Beatie, and fought a big one before cracking her off.  Square Bear released a little guy for Fred Cameron that tried to jump in the boat.  And on KEKOA, we put 12 year old Josh onto his first ever black marlin (below) and he can't wait to go and get another!

Josh's first marlin on KEKOA
Updated: Some catch up reports and results (and these are now corrected as per the tournament committee):
At the Port Douglas Marlin Challenge the Champion Boat was Kyrenia with 3, followed by Mistress with 2 tags on countback from Reel Impressions also with two. On one tag were (in order)  Joe Joe and Gorilla.  The biggest fish was estimated at 950lbs on Kyrenia.  Congrats to Kyrenia's  George Argyrou who was Champion Angler from Barry Alty on Mistress as runner up, both with two tags.  Sue Ahlers on Hellraiser took out Champion Female. The tournament stats were 40 strikes, 28 hook ups and 13 tags. It was a slower final day but Rat Bag got on the board to take out the Day 4 daily. Congrats to everyone who competed!
I also heard from Gary Ryan who fish with Capt. Rob Bonser on Pirate last week. Gary sent me these photos from an estimated 400lb-er for Curtis Wallbridge on Saturday and a 450lb-er for Gary himself on Sunday.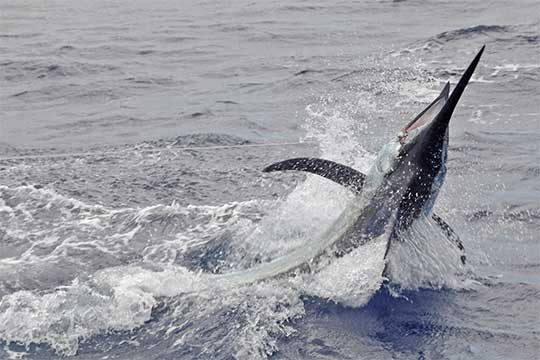 I also uploaded another video, this one is Chase's 950lb black marlin on KEKOA last week. I have heaps more coming if I can find the time.
And Rod put together this video of their first early season day out on Murrifin.  Starts out with some mako action and then onto the stripes.  Good stuff!