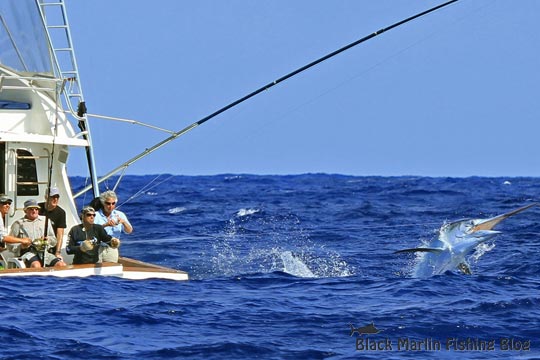 I mentioned in the digest yesterday about how I like to take photos of other boats. Well yesterday I got my chance with Capt. Ian "Wobbles" Ford on Hot Shot hooking up on a nice big black marlin nearby.  The fish stayed deep for 15-20 minutes to keep us all guessing before she did a couple of jumps out the back.  Finally they were able to get her alongside with Dave Cassar on the leader I snapped a couple of shots of the fish that Capt. Wobbs put at 850lbs. Good stuff!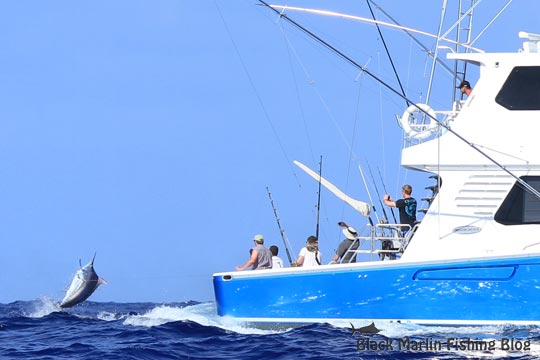 Also nearby, Capt. Simon Carosi on Brilliant Company hooked up and released two smaller fish in short succession that I was able to get a few shots of as well.  (Above doing an aerial display at the back of the boat.)  I also heard that Capt. Corey Hard on Askari fought a real big fish that he put at over the mark. Update: Corey tells me that they went 2 from 3 yesterday which makes 11 in 11 days and includes 6 big fish including one well over the mark and one at 950lbs!  Some really good fishing!
Further up the reef on Kaizen, dad Wayne Douglass finally got his turn in the chair releasing a 300lb fish, while son Nathan was on the leader.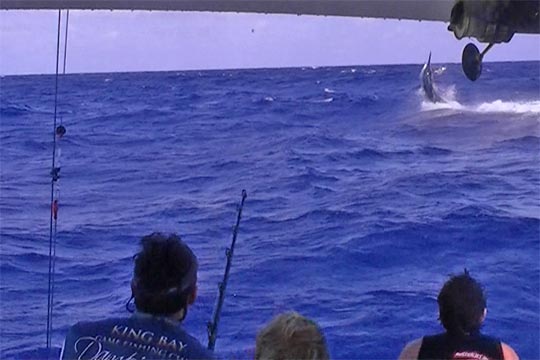 Catch Up Reports: WA King Bay GFC's Steve Tatham sent me some photos from his recent trip on Viking II with Capt. Bill Billson.  Steve and wife Jo were on their annual trip to the reef, with Jo chasing the 50lb ladies record.  Steve said the fishing was great and that Jo had a couple of good ones on that could of broken the record but pulled the hook.  Photo above is of a fish that Steve released which declined Jo's 50lb bait in favour of the chair rod, which probably would have nudged the record.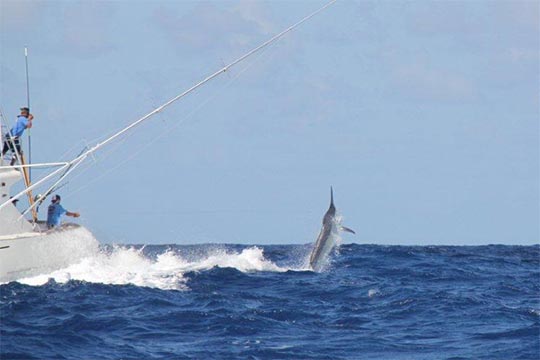 Steve also took this photo of Askari on a nice fish nearby.  Steve says that she goes hard backwards and that another highlight of the trip was Capt. Tim Dean's birthday bash behind Number 3 ;-)