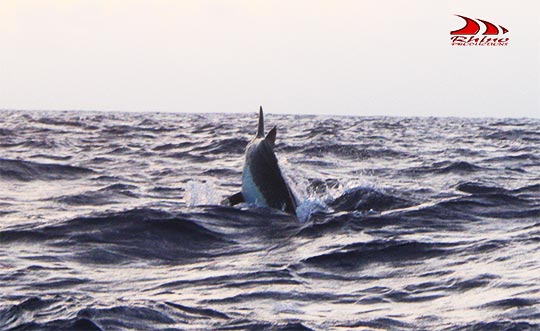 We last heard from Capt. Adam Jordan and the team on Iona 2 when they were headed out wide on Tuesday and released two fish at 600 and 900lbs on the way.  They returned last night after two days in the vicinity of the seamount having added a couple more fish to the trip tally at 350lbs and 550lbs.  Heading out to Holmes Reef for a night's rest they jumped off another about 800lbs and also got into the yellowfin and dogtooth tuna.  On the way back in to the edge yesterday, they had a massive double header jumping off one of the big fish and catching the second that Capt. Adam put at 1000lbs!! (more photos to come!)
Capt. Adam also tells me that the big boat Valykyrie was having some luck out there as well. He saw them catch two in the morning at 950lbs plus a smaller fish!
Meanwhile on Linden Bank and Opal Ridge, the big blacks were biting as well. Capt. Dean Beech on Castille III reports they released a small one for Chaddy and pulled hooks on an 800, and then released one for Lucas from Sweden that Capt. Dean put at right up there on the mark! And they only started fishing at 3 pm.   Nearby, Capt. Daniel Carlson's Little Audrey likewise had a return to the bite with three fish yesterday at 700, 400 and 250lbs. Dan says the 700 and the 250lb-ers were a successful double header!
Shaka with Capt. Jared Weir released two fish on a double missing a third which they kept trying to bait while catching the other two.  Owner John tells me that unfortunately the one that didn't eat was the one that they wanted–the biggest fish they've seen for several years! Capt. Tim Dean on Calypso also released three including a double header and Capt. Corey Hard on Askari released one at 450lbs at Spur Reef and Capt. Brett Alty on Mistress tells me they also added a small fish to their season tally yesterday which puts Barry on an impressive 87% strike to tag ratio. Way to go Barry!
And lastly, Capt. James "Jimbo" Bladin and the team on Spartacus caught a potential junior female record on 80lb. It weighed in at 167kg which should be the World and Australian Junior record. (More details to come.) Congrats guys!
From the Gold Coast Capt. Ken "Brownie" Brown on Megumi has spent the last couple of days fishing out of Southport and released a nice blue marlin for Gayle on Tuesday morning which was her first marlin. Later Tuesday they also had 2 crazy shots from the one fish Tuesday afternoon for Laurie which spat the lure mid-air. They had a triple header up on Wednesday morning but the fish were playing, not eating. And then on the way back north on Thursday, Laurie finally had his chance releasing a 250lb blue on the canyons east of the Cape
Internet connection is a bit iffy where we are so no digest today.