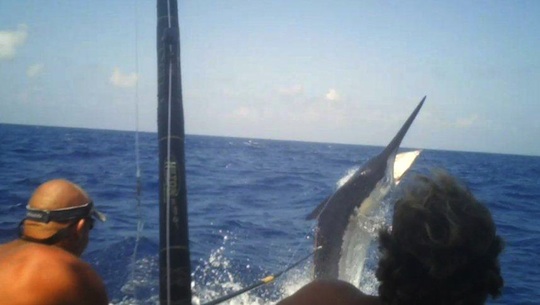 More big fish on Linden Bank yesterday with Capt. Brett Alty reporting two for Barry and the team on Mistress including a giant they put at 1100lbs.  Barry said this was your ideal big fish because they had it to the boat in just over 4 minutes (as opposed to a recent 2 hour+ fight).
Capt. Tim Dean on Calypso had the late bite getting two on a double header and raising another nice big one.  Capt. Daniel Carlson on Little Audrey finished up their trip with a 300lb-er to make that 6 for the trip!  And Capt. Jared Weir on  Shaka added another as well (I corrected yesterday's report in case you didn't notice – Shaka released two in a double yesterday as well).  Update: Capt. Corey Hard on Askari jumped one off about the 800lb mark and released another at 300lbs.
Capt. Adam Jordan on Iona 2 has now said adios to the reef for 2011. After their successful trip out wide, they headed in early yesterday for the end of their Cairns season, finishing on a great high of 17 fish in the last 13 days including two granders!
Below is a photo from Rhino from their trip out wide of the two small swimming along with the 900lb-er.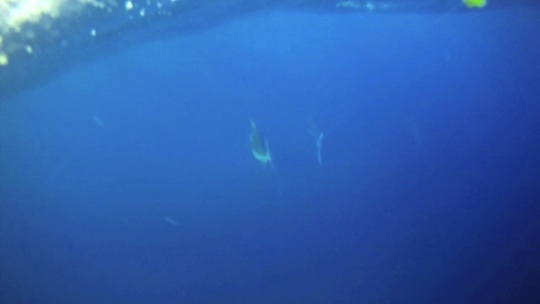 On the Gold Coast, the Larva Lure boys on Murphy's Law had another great day out on the water yesterday releasing this nice solid blue marlin.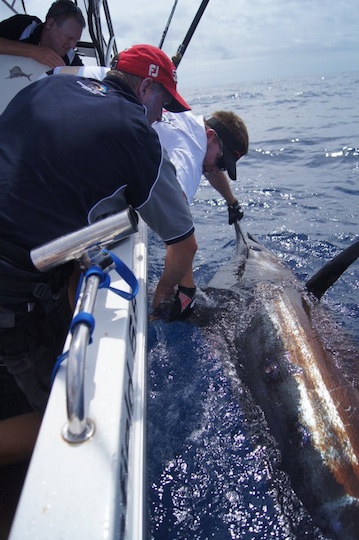 We're in town again and I've got some jobs to take care of this morning before we head out again. If I get any more reports in throughout the day, I'll put them up!