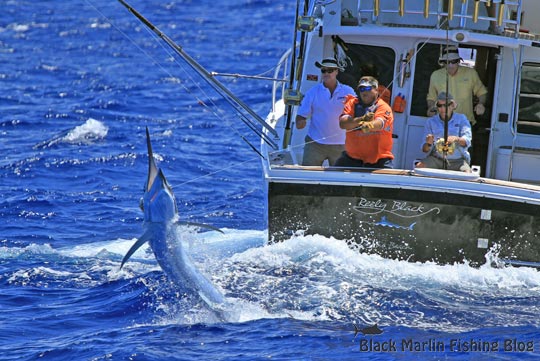 It seems like there's a pretty steady bite continuing at Linden Bank, if you're in the right place at the right time. And a whole bunch of other fish that like to play with the baits but not eat ;-) I snapped this shot of the boys on Reelly Black on an energetic 300lb-er that Ben says this was one of a double header. Ben also says that they released one at 750lbs the day before.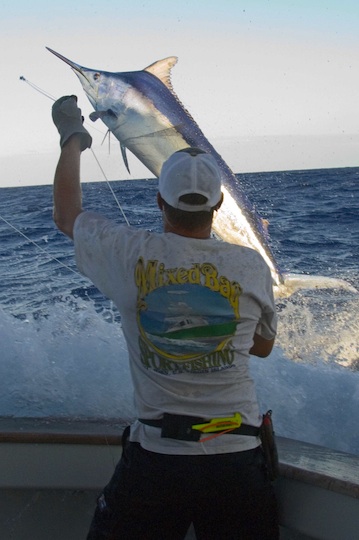 Meanwhile Capt. Jared Weir on Shaka put John onto two fish at 600 and 550lbs. This one wouldn't jump for me (below at 600lbs) but the next one did (above at 550lbs).  Thanks John, great pic!
Amokura, with Capt. Brett Thomas at the wheel while Capt. Chris makes a quick trip home, released a nice solid fish that they put at 900lbs for first time angler Simon Nipperess. Congrats to Simon!  And nearby, Capt. Tim Richardson on Tradition returned to the southern end of the reef and released a 600lb-er for Stefano for his 40th birthday. Happy Birthday Stefano!
Capt. Bretty Alty on Mistress put crew Rocket in the chair for a welcome change as he released one about 350lb and they also missed another big fish that they say would have put the previous day's fish to shame!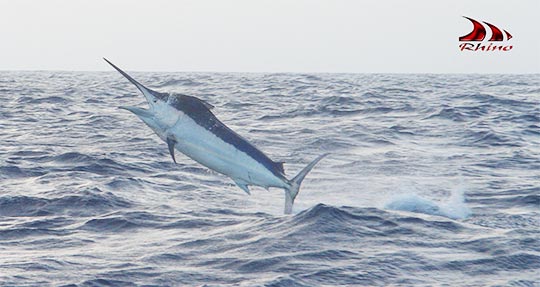 Lastly, Rhino sent me another great photo as well as some video links from their last trip on Iona 2. Rhino's already working on his season video now–can't wait to see that!
http://www.youtube.com/watch?v=GFhtkKE0D-U
http://youtube.com/watch?v=knJCcQdu_Ls
http://youtube.com/watch?v=CxyQw5aYKkM
http://youtube.com/watch?v=qFlwR7id9uE
http://youtube.com/watch?v=AOnDrkMFqFg