Just a quick note–we're traveling and may be out of internet/phone range off and on for the next few days. I'll get reports up (and update reports) when I can but they may not be first thing in the morning as usual. I'm getting this report up now nice and early before I lose signal today but there may be more reports to add later.
—
Lots to report, read all the way down!
Remember last year when we coined the term "Linden Stadium"?  Well this year, once again, Linden Bank is living up to its nickname.  With the vast majority of the fleet now fishing within 3nm of each other, it's most definitely still 'the place you go to watch other boats catch the giant black marlin'!  Unless of course it's your lucky day. Then everyone else gets to watch you catch them! Yesterday's it was the boats who were watching the day before's turn to catch them up.  And catch them up they did.
Capt. Russell Caphorn's Kaizen finished the day with two nice fish that he put at 850lbs and the second at 1000.  I had my camera out for shot on the smaller fish, but it actually jumped so close to us that I missed it!!
Capt. Kim Anderson, who is back on the reef on board Reel Shock with Stretch on the gloves had a top day releasing three at 250, 300 and 900lbs for Anders, Johnny and Ole, all from Sweden.  Capt. Troy Dallman on Cool Runnings likewise had a great day releasing two fish at 200 and 950lbs.
Capt. Tim Dean on Calypso had a massive day releasing what he called a "giant fish" for James Norris.  Capt. Tim says it was an absolute beauty and they are having a ball!!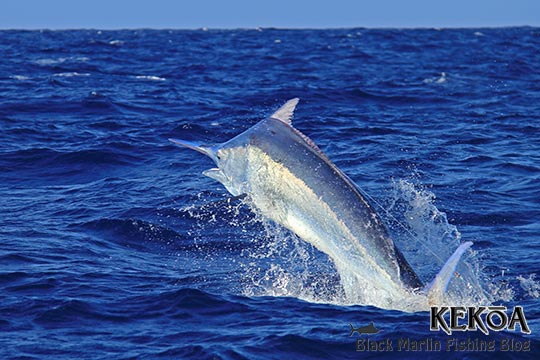 On KEKOA, we wandered away from the boats and had a big fish take a massive swipe (and miss) at the stinger before engulfing the scad. And owner Scotty Taylor was on to his biggest fish in his almost 10 years of fishing with Capt. Luke.  But Scotty's had plenty of time in the chair and he put it to good use as she gave us some good drenching with her tail boatside.  She was released in very good condition at 950lbs+ from Capt. Luke.  We're going for a wander further afield today.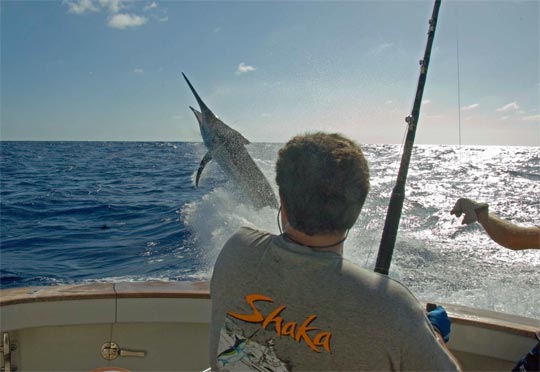 Likewise Shaka  had the big girl up that Capt. Jared Weir put at 950lbs for angler Rich on his first day on the reef.  John says it was a present from his wife on their 25th wedding anniversary. What a way to celebrate it! And another great shot, thanks John!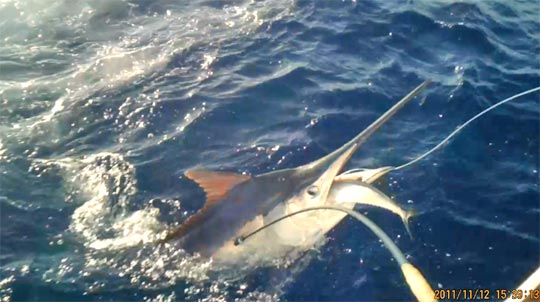 Mistress returned to Port on changeover last night but not before releasing another one from one at 400lbs for Barry.  Capt. Brett and Rocket sent me this photo from the other day when Rocket got in the chair for a change.  Barry was on the tagpole and Brett says they're not sure whether he got the tag in or not! What do you think? ;-)
Weipa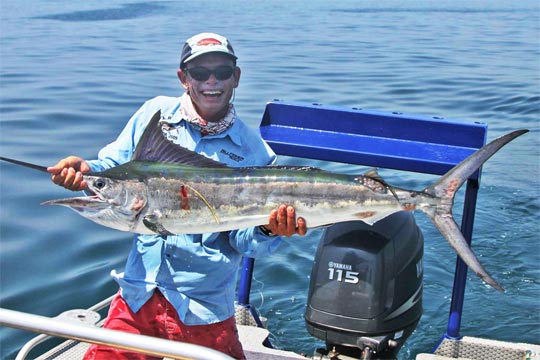 Well, the inaugural Weipa Billfish Challenge has been run and won, by you guessed it, Capt. Ben "Notso" Bright and his team on Last Cast (Ben, Kristy and Alan (Fish) Philiskirk and Jason Owen).  Ben's team caught three (2 sails and one black) from the second place boat with two and a few boats on one tag. All together 14 boats fished the two days and released 9 between them.  Such a great effort for the very first tournament.  Hopefully it becomes the first of many.  Ben says the marlin ranged from tiny (photo of Ben with his) to about 80kg and the sailfish, well he caught his yesterday in 55 feet of water!!  It looks like conditions were picture perfect too! Full report from Ben at bottom.
Gold Coast
The blue marlin reports just keep coming. Vince on his boat Barco went one from two on Wednesday, one from one on Saturday and one from two again on Sunday.  Vince says he knows that there were also other fish caught and that with a bit of luck and effort, you can get a blue pretty consistently.  I also heard from the team on Murphy's Law who went one from one yesterday as well at about 150lbs. They also released a nice one on Friday that they put up near the 300kg mark.  Matt says he knows of at least three other blues tagged as well.
Update: Full Weipa Billfish Tournament Report from Ben
Thanks for the report Ben which I've reproduced in full!
For its first year organisers limited it to locals only, with an aim to help identify the potential of the fishery and how much local enthusiasm exists with the possibility of forming a local GFC.  A tackle night was held prior to the weekend to give new comers some help with tackle, rigs techniques etc.  The weather was perfect with glassy conditions for much of the weekend.  Fishing times were 0800 to 1600 each day.
Day 1 saw the fleet spread out (all trailer boats) with the local VMR out on the water to help out with radio sked and safety etc.  We (team Last Cast) hooked a 50kg black in the first half hour and pulled the hook after 10 min.  Shortly after, we hooked a sailfish and as it was coming close to the boat, team Sea Swift Pirates called in the first sailfish!!  As the VMR was close by we called them over to get some photos of our fish.  It was hard to keep in radio contact with those to the south but mid afternoon we managed to add a baby (120cm short) black marlin to our tally.  About 1530 team Silly Billies fishing nearby called in a sailfish, and we found out later they went 1 from 4 in that last half hour!!!  At the weigh in (??) that evening it was revealed team Tag Team went 1 from 2 blacks (70kg) with stories of a few other fish seen, hooked and lost.  One team hooked up very early on a black only 800m from the fairway beacon, only to have it fall off close to the boat.
Day 2 saw a pretty slow day overall, with several boats now fishing to the north where Silly Billies raised their sails and we caught our black.  By smoko we headed inshore where bait was marked on the morning run out and found a sailfish!  Later in the afternoon a sailfish (sorry can't remember the team name) was called in and it turns out they lost one earlier as well, and Silly Billies called in a black marlin (20kg).
Overall results were Last Cast – 3 fish (2 sails and 8kg black marlin); Silly Billies, 2 fish (sail and 20kg black marlin); Sea Swift Pirates 1 fish (sail) and 3 other boats on 1 fish.  By rough count about 25 fish were raised all together.