Well, we're back! I think its pretty obvious that we didn't get any telephone/internet service while we were 'away' so lets see if I can catch up on the last few days.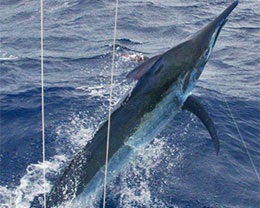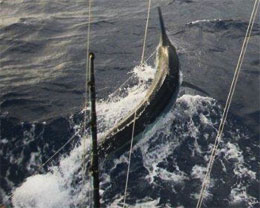 While the fishing hasn't always been consistent, there are still a number of big fish around. Case and point Capt. Dean Beech and the team on Castille III who released three from eight on Wednesday fishing at St Crispin's Reef at 450, 1050 and 1150lbs!! Capt. Deano said they also pulled the hooks on one about 800lbs and that all the fish were caught to first time anglers. What a day!
Adding up the numbers and BIG fish, Capt. Tim Dean on Calypso tells me they wrap up their 8 day trip today and are currently on 13 fish in 7 days which includes two fish around the 1000lb mark!! Capt. Tim says they broke another big fish off yesterday and caught one around 400lbs while jumping off another three.
I also heard from Capt. Rob Bonser on Pirate who tells me he had a great day at his local haunt on Tuesday. They started out with a 200lb-er at 2 and had a bit off a bigger fish but pulled the hook. Capt. Rob says there were big fish all lit up swimming around just surfing the waves but they didn't get any more bites until 4:30 when they hooked up to another big girl. At 8:30pm they released her sill going strong at 1100lbs for anglers Takeo Tokuyama and Koichi Kawai. Big congrats guys!
On Wednesday, Capt. Tim Richardson on Tradition released one that he put at 950lbs for Jack. Meanwhile, after starting the trip on Sunday with a smaller fish off Spur, Capt. Daniel Carlson's Little Audrey have been adding them steadily ever since. They released two from four on Tuesday at 250 and 350lbs, missing two larger fish around 600 and 900lbs. Wednesday, a top day with 4 from 4 at 900, 500, 400 and a 200lb-er for 14 year old Luke Rogerson, which was his first marlin. Capt. Dan says that young Luke dreams of being a crew and captain at Cairns one day and so they've been teaching him the ropes. On Thursday, they added another one at 350lbs to put them on 8 fish for the trip so far.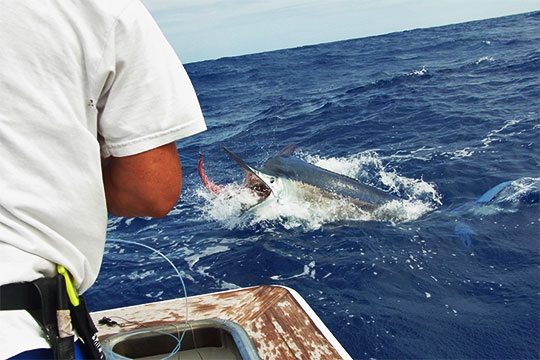 Likewise, Mistress have been producing good numbers since the start of their latest trip on Tuesday with 7 from 11 in the past three days. Tuesday they released two starting with a 300lb-er from a double header (the second bigger fish at 800lbs ate right off the rod tip but unfortunately pulled the hook shortly after). Later they added the 650lb-er and jumped another one off about the 800lb mark. Wednesday, it was 3 from 3 at 600 300 and 250lbs. Photo of Rocket on the leader of the 600lb-er which is the angler from Finland's first marlin. Thursday, they added another two more.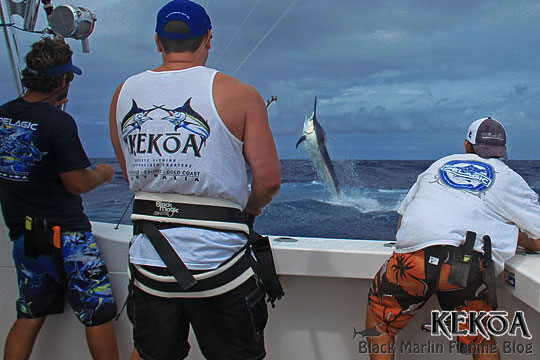 On KEKOA we are 7 from 9 in the past two days fishing up on the outside. Tuesday was just window shopping marlin for us raising 5 marlin down at Myrmidon Reef (3 blues, 2 blacks), none of which would eat. We released three black marlin on Wednesday starting with the first fish at 5:30 am, just after we got underway, and we also missed a blue marlin of around 400lbs. Yesterday, Thursday, we released 4 from 5, two on standup for Brendan and the other two on conventional chair tackle for Scotty on the way back into the edge. I got some more great photos. It definitely looks like its shaping up nicely out there with plenty of bird action.
Capt. Tim Ryan on Joe Joe fished Opal Ridge on Wednesday for two at 200 and 400lbs. Capt. Ian "Wobbles" Ford on Hot Shot likewise added two from three on Monday, both around 300lbs. Capt. Jared Weir's Shaka was back out yesterday fresh from two days off and released a small one to start them off.
Sunshine Coast: David Granville tells me the blues have finally shown up on the Sunshine Coast this week with Ymer going 2 from 4 and Watch Ya Problem 2 fm 5 on Wednesday. Thursday Watch Ya Problem was 2 from 2 and Fish Whisperer 1 from 1.
Gold Coast: Meanwhile, the blues just keep coming on the Gold Coast with Larva back on the water releasing another one yesterday.