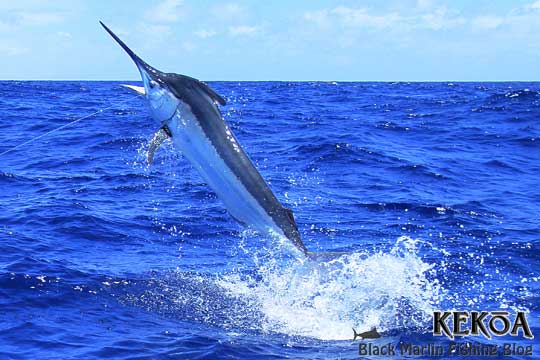 Capt. Kim Andersen on Reel Shock  had another top day with four from six black marlin ranging from 150lb to 500lbs.  Nearby on KEKOA we had the early mark into Cairns on changeover and finished our trip with another two smaller blacks including this fish for Scotty, his first on standup tackle (but not the last!)  That put us at 10 for the trip. Also finishing with two fish at 400 and 200lbs to make it 10 for their trip as welll, Capt. Daniel Carlson and the team on Little Audrey.
Out of Brisbane, Capt. Ken Brown's Megumi released one from two, a nice fat blue marlin at 400lbs. Ken's back out again today. Hopefully we'll hear more from boats on the Sunshine and Gold Coast this weekend.
Update–more reports have come in:
Capt. Jared Weir on Shaka added another nice fish at 650lbs and another nice photo too thanks John.  I also heard from Capt. Corey Hard on Askari who tells me they returned from two days at Holmes Reef and 6 bites, 5 of which were blues on lures. Capt. Corey said one of the blues was 647lbs. Yesterday, back on the edge they went one from one at 400lbs.
I also heard from Capt. Chris Jolly who is back on Amokura and have released 6 from 10 in the last three days fishing. Capt. Chris said all the fish were small up to 400lbs. Great going!

For the fleet if you are in Cairns on Sunday:
The Billfish Foundation's Dr. Elliott Stark and BlueWater Editor Tim Simpson are in town and will be catching up with BlueWater GFC members and guests to exchange perspective, conservation, and maybe a fishing story or two.
Date: Sunday 20th November, 2011 at 6pm
Venue: Cairns Cruising Yacht Squadron Restaurant- 42-48 Tingira St Portsmith (Plenty of parking)
Meals to be ordered on arrival and at member/guest expense.
On Monday, they will be out on Tradition with Capt. Tim Richardson.