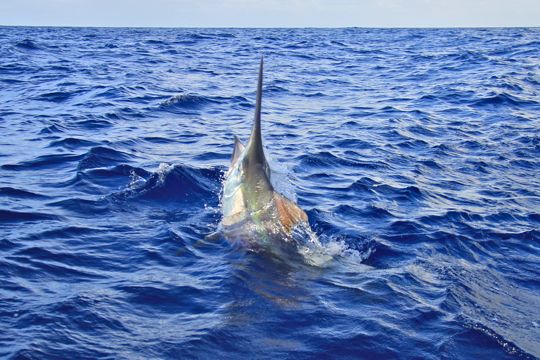 Well the fish are here, though in our experience not biting real good. [ I passed it around the boat to get some descriptives about the bite and what I got was "soft", "doughy", "toothless tigers" ;-) ]
It seems like the same was experienced across the fleet. Capt. Corey Hard on Askari reports one from three at 300lbs. Capt. Corey said it was one half of a double header and the other fish, the big one, fell off.  Capt. Chris Jolly on Amokura also reports 1 from 3.  And on KEKOA, we went 1 from 4 for Cas' first black marlin (above – it didn't jump at all so this was my best shot).  Among the other three we had up a nice one that ate the stinger bait no less than 5 times, each go taking it for a quick run and dropping it before coming back to take it again as Dingo wound it up.  5 times!!
We also watched Capt. Damien Collette on Sailtaire fighting a nice big fish in the middle of the fleet for quite some time but I'm not sure of the result (Damien?).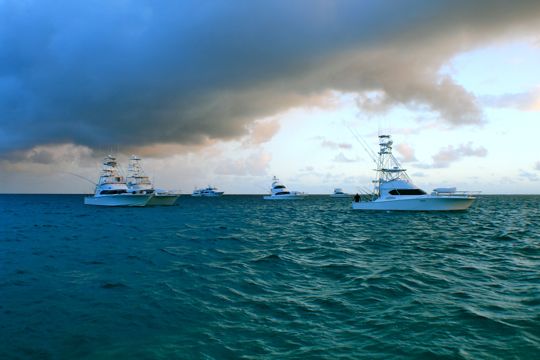 This is a shot of some of the fleet here on anchor at Opal Reef this morning. We had some good rain overnight and the cloud/sunrise colours are amazing.  By my count, there are 12 boats here at South Opal Reef and another 5 or so at North Opal.
NSW Central Coast
Capt. Scotty Thorington's Flying Fisher started off their marlin season yesterday with 2 from 3 striped marlin on their home grounds off Terrigal.  A great way to start the season!
Gold Coast
The boys from Larva Lures sent me the video footage from their blue marlin on Wednesday which shows the fish in the spread on the Towcam tow camera as pole camera footage of it beside the boat.  Check it out here!