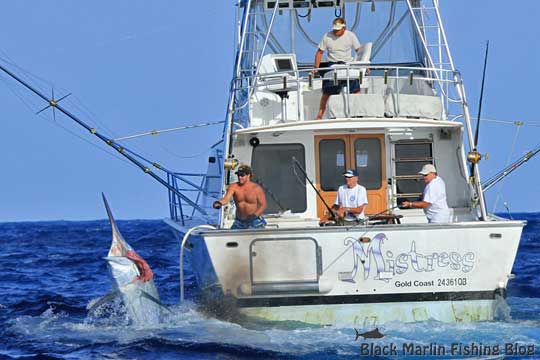 Lots more bites yesterday with most of the fleet encountering fish–although most were of the smaller size.  Capt. Brett Alty on Mistress put father Barry on a couple of bigger fish however, ending the day with three that they put at 1000lbs+, 600 and 300lbs.  This is a photo that I took from nearby (above).
On his way in for changeover, Capt. Tim Dean on Calypso released two as did Capt. Chris Jolly on Amokura, who went 2 from 3 at 200 and 400lbs.  Capt. Kim Andersen on Reel Shock went 2 from 4 on the small guys while Capt. Corey Hard on Askari caught two as well.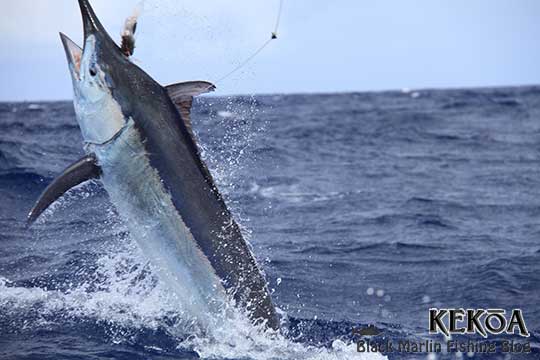 On KEKOA, we went 2 from 3 for Cass again approx 350lbs (above) and we saw Capt. Bobby Jones on Iceman catch a couple of smaller fish next to us for Lorraine and Bob says they've been catching a couple each day.  Likewise Capt. Chris "Sharky" Miles on Kanahoee (below) releasing three.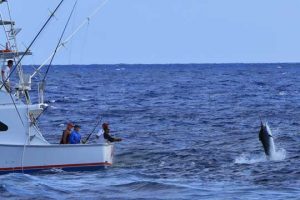 Paul Poulter's Think Big was one of a few private boats out enjoying the weekend. Paul says they raised three and tagged one about 500lbs just before 6pm after a 15 minute fight.
More blues on the Gold Coast with Vince on Barco telling me they went 3 from 4 on Saturday–a top day–but were donuts on Sunday with the north-westerlies. I also got this picture (below) from Kurt de Villiers who fished the Point Lookout wide grounds on Saturday in his 24ft centre console. Kurt says the water was great, good current, temperature 24.8 and flying fish everywhere.  They hooked a blue just before 5pm but had 'moment' and the rod was knocked into free-spool (now a sour topic).  Still they were content with two dolphin fish and this wahoo.