A lot of reports and lots of photos in today's blog. Read all the way to the bottom – I assure you its worth it!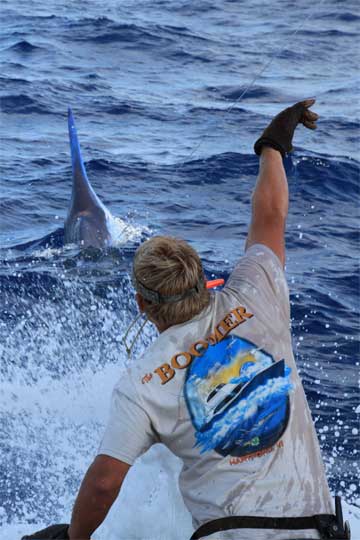 There were certainly some more big fish caught on the reef yesterday. Little Audrey headed out on the first day of a 5 day trip and found two big girls that Capt. Daniel Carlson put at 1000 and 1050lbs, as well as a smaller 200lb fish all within an hour of fishing. Capt. Dan says the fish only really did half jumps so no real good pics and that they also missed an estimated 700lb blue marlin and two other small black ending with 3 from 6. (Photo from brokenfoot Brady on deck with Jeff Hudson on the leader.)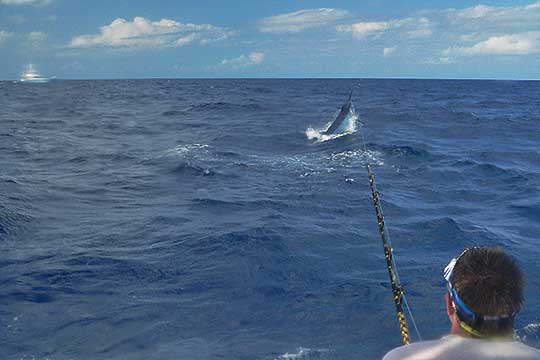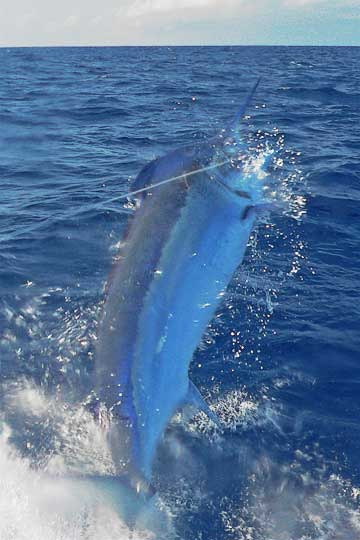 Also having a great day, and topping off a few awesome days of fishing, Garry Holt's Diversion also recorded three yesterday that they put at 1000, 800 and 150lbs. This makes the score 7-7-7 for these guys who seem to be on fire in the past three days. Garry says the other fish were 150, 250, 300 and 350lbs. Calvin Miller was the angler for the 800lb-er and son James "Fabio" Holt for the 1000. Garry sent me the above photos–thanks Garry!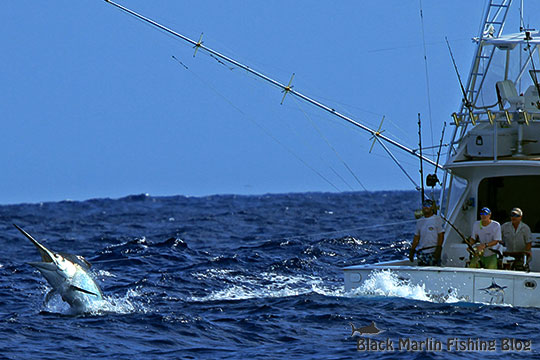 I also managed a shot from a bit further away (you can see KEKOA in the background of photo up the top to get an idea of where we were.) The big lens works pretty good!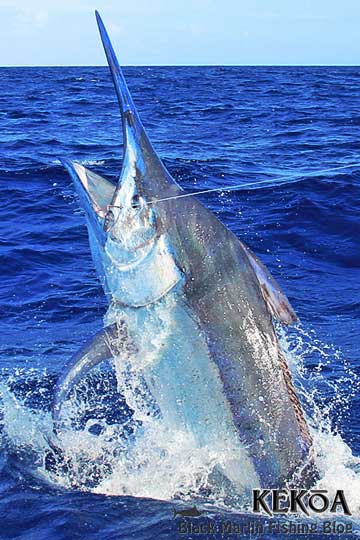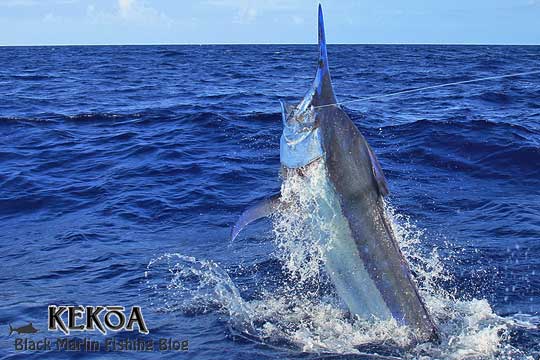 On KEKOA, as we were running in for the end of the trip, we moved further to the south and scored the last minute bite for Cas to put him on an individual 4 black marlin for the three days. After having some fun with the smaller fish on the previous days, this one put Cas through his paces and gave me a couple of good photo opportunities (2 photos above–lit up throughout the fight) before she was released after 30 minutes. Capt. Luke Fallon put her at a solid 850lbs.
Amokura was also fishing nearby and also had some luck after moving away. On the first day of a new trip they released that Capt. Chris Jolly put at 700lbs. And also starting a new trip on a high, Capt. Tim Dean on Calypso was straight into it releasing 2 from 2 at 250 and 350lbs.
Capt. Brett Alty on Mistress tells me yesterday was pretty slow compared to their previous day [ ;-) ] but they released another one yesterday about 500lbs. And Paul from Think Big sent me this picture from their fish that he put at 500lb tagged on Sunday. Thanks Paul!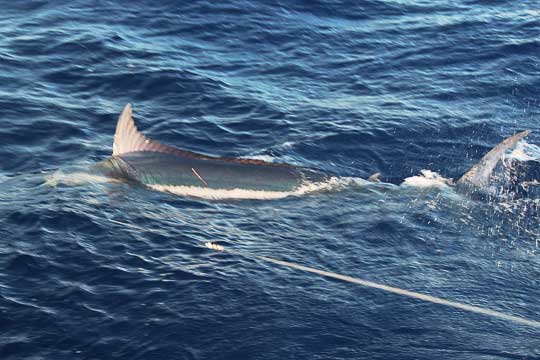 Catching up: Capt. Brett Thomas on Gorilla sent me a round-up of his Cairns 2011 as he and the boat head for home (Sydney). Brett says they finished their season on Sunday with two from four – a small one and one at 800lbs for Paul Bandeira. They also released a 900lb-er for Dennis Webb earlier in the same trip as well as 4 other smaller fish. A great result for the five days.  Brett says their final numbers were a very impressive 20 fish in 22 days, with two weeks lost due to engine troubles, and includes 7 fish over 700lbs! Great stuff Brett, look forward to seeing you back on the reef next year!
We have the next two days off in town (after 7 weeks straight — yay!) and I'm hopefully going to be catching up on some footage so look out for that soon! We are back out again on Thursday so I'll have to rely on others for photos until then!