Is there nothing worse than being in town when big fish are being caught?  I think not! There are still opportunities to fish the reef this year. If you haven't already, contact one of the very reputable Captains on the directory page for your trip of a lifetime. Capt. Tim Dean on Calypso has advised me of a late cancellation for the 2-10 December or part there of.  If you are interested, contact Capt. Tim directly via his website www.marlinfishingaustralia.com or mobile 0411 111 476.
—
Capt. Simon Carosi, left Cairns yesterday on board his charge, private boat Brilliant Company which calls the port of Gold Coast home. Simon put the lures in outside of Noggin reef and released one from one at Raff Shoals. Just a couple of hours later and a several miles further south, they hit the jackpot and released another that Simon put at right on the mark!  What a way to end your season with a 1000lb black marlin!

Meanwhile on the edge off Cairns, boats reported a quieter day but still plenty of big fish caught and raised.  Capt. Jared Weir and team on Shaka sent me this photo above of a 900lb-er they released for owner John Hendry's son Matthew. Congrats Matthew!
Capt. Jared also reported fishing nearby to Capt. Bobby Jones on Iceman who released a fish that he put at 1100lbs!! Way to go Bob!
Capt. Daniel Carslon on Little Audrey also had another big fish day releasing one about 800lbs.  Capt. Dan said they also raised another bigger fish.  Meanwhile owner Garry Holt and the boys with sore heads on Diversion also released another fish around 400lbs.  (I've included the Youtube video clip for their big fish on Monday at bottom so check it out!)
South-East Queensland Blues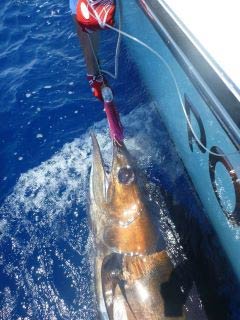 Southern Stroke Fighting Chairs' Brad Carlin has spent the last few days off Fraser Island aboard his 43 Cabo Aurora and have released 3 from 4 blue marlin including one they estimated at 600lb plus heaps of yellowfin.
On the Gold Coast, Larva Lures' Dan tells me they took Channel 9 identity Paul Burt and his camera team out fishing on Monday and released another blue marlin for the cameras. Dan said the fish put on a great display for the cameras.
Also this is a link to a video clip from Capt. Ken Brown on Megumi of a blue marlin for Felix off Moreton last week. Good stuff!


Diversion's big fish video:

And, Rod Findlay's Murrifin went 2-2-1 on stripes again on Sunday and Rod's put together another great clip: