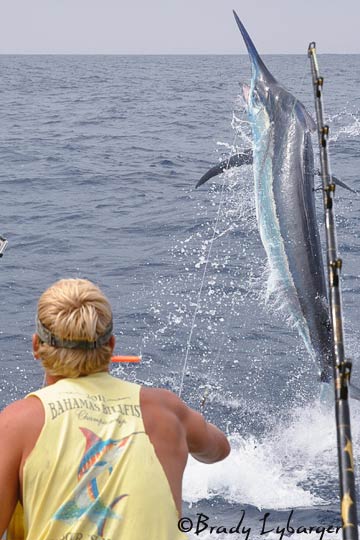 Plenty of big fish raised again yesterday on the reef although only a few converted. Capt. Daniel Carlson on Little Audrey caught their third grander black marlin in as many days. Unfortunately the fish died during the fight and so it was weighed at 1038lbs to Dominican Republic angler Eduardo Read. Capt. Dan says that soon after they also lost a 700lb-er which, on the same rod as the big fish, wore through the line. This marks Capt. Dan's first weighed grander and also puts the team on 45 marlin for only 28 days fishing. They are having a remarkable 2011 season–congratulations to all on board!
Capt. Tim Dean on Calypso returned to port on changeover last night with a 1 from 2. And Capt. Jared Weir on Shaka tells me they pulled the hooks on a big fish at the back of the boat.
A couple more of the fleet have taken advantage of the perfect weather conditions to head wide for a look-see. Hopefully we'll hear good reports from them when they come back into range. Capt. Dean Beech on Castille III headed out wide yesterday and had already jumped off a blue marlin prior to traveling out of phone range. Capt. Dean ends his trip in Townsville. Capt. Bett and Barry Alty will likewise be steering Mistress back to their home port on the Gold Coast via the seamount and Myrmidon. Barry says its been a great season for them as well — their best since the early 2000's! We look forward to hearing how they go as well. And likewise, Garry Holt's Diversion also leaves our tropical waters on Friday on his way home to Port Stephens, where early season striped marlin may be keeping them busy soon.
Also currently underway south, I heard from Capt. Adam Jordan on Iona 2 who, although not on the boat himself, told me that the boys released a 500lb blue marlin at the top of Fraser Island yesterday. With Mustard at the controls, Rhino did the rest solo on the back deck and I'm told that although it nearly spooled him on the 130lb, after it settled down he even had time for a beer and a ciggy before vacating the chair with the fish beside the boat to wire it himself as well!! Knowing Rhino as we do, I'm sure there will be a video coming soon!
I also heard from Drew Willis who fished east of Cape Moreton on Saturday in his 6 meter centre console Mates Rates for blue marlin on light tackle. Drew says they went 1-1-'almost' on a 400 pound blue on 30 pound line class, after a 3 hour fight and the double on the rod, lost the fish beside the boat. Drew also tells me Bribie Island boat Hard N Up fished nearby for the day going 1-1-1 on a 200 pound blue. Thanks Drew!
I'm writing early again as we head back out this morning after a couple of days off. Looking forward to hopefully getting amongst these big fish again ourselves!