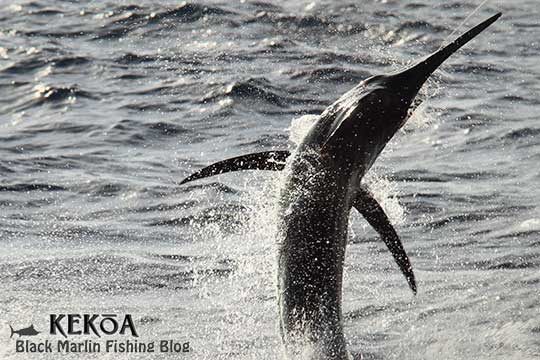 A few more fish around Monday on the Reef. Capt. Tim Richardson on Tradition released three from four including one at 800lbs and a couple of smaller fish.  He was joined at Linden Bank by Capt. Troy Dallman's Cool Runnings who also released two that he put at 500 and 650lbs.
Capt. Tim Dean on Calypso left Cairns on his last trip of the season yesterday and fished to the south heading for Myrmidon Reef. Tim released two on the way from Noggin to Gilbey Reef at 300 and 550lbs. Hopefully we'll hear more reports as he picks his way down.
Off the Light, on KEKOA we went for a look out yonder past the green water and returned to go one from two which puts us on four for the first two days of this trip (photo at top).
And, on his way south off Lady Musgrave Island, Capt. Brett Thomas on Gorilla reports they released an 850lb black marlin for angler Garry Gleeson.  Brett says they also fought a 600lb blue marlin for a short while as well.  Good stuff Brett!