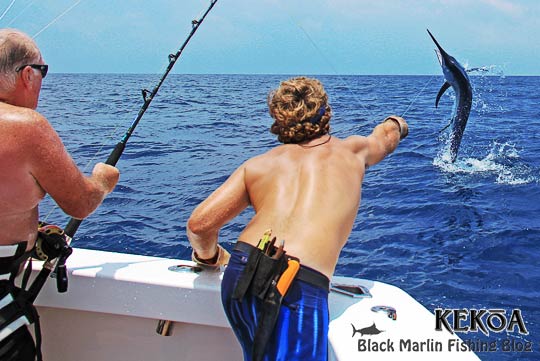 On the edge, on board KEKOA we released another feisty black marlin yesterday on standup 50lb tackle on the way out to Linden Bank (photo above), but for the fleet fishing there, it was a pretty quiet day.  We also enjoyed some really good weather which gave me a chance to put another video clip together (check it out at bottom).
From the fleet heading home: Capt. Ian "Wobbles" Ford and the team on Hot Shot had a great couple of hours fishing off Fraser Island going three from five on blue marlin.  Wobbles and the boys are mid-way home to Bermi and Dave says they even got Wobbles down from the bridge to wire one of the fish.  I also heard from Lachlan on Kaizen who must be approaching home on the Sunshine Coast now. Lachlan says they went two from four at Jenny Louise on their way out of town on the weekend and jumped off a blue marlin at Lady Musgrave on the way through.
For those who are wondering about Jeff's shoulder (Little Audrey)–it's not broken!  They did return to town to get it checked out as a precaution but Jeff says its just a bit bruised.
Also to the south, on the Sunshine Coast, I heard from Nathan with the results of the Mooloolaba Billfish Bash over the weekend.  Nathan says 15 boats and 86 anglers competed although it was a little quiet on the billfish from. Bring It On skippered by Steve Dahl were champions in the Over 7m category with two black marlin. Aquaholic won in the Under 7m category.  Seems like a few more fish showing up. Ross tells me they released a 70kg striped marlin on Fish Whisperer off Noosa Canyons on Sunday as well as a heap of dolphin fish.
On the Gold Coast, Vince on Barco released a spearfish from 5 strikes on Monday as well as a blue marlin yesterday.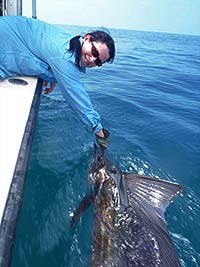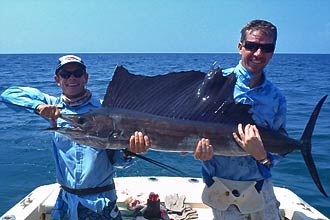 And back over at Weipa, Ben says the billfish fishing has been pretty consistent.  Over the weekend Darren Lee took his partner Nicky Perriman (pictured) and her sister out and ended up with a sail and a couple of blacks.  Ben joined him yesterday with a friend Robbie Carter (who had never done any bluewater fishing before) and caught Robbie a 35kg black and 15kg sail, among numerous mackerel and a few tuna.  Lots over firsts for billfish happening in the Gulf–thanks Ben!
Video: This is a compilation video clip of some of the marlin jumps on the leader from this season on KEKOA. Hope you enjoy it!