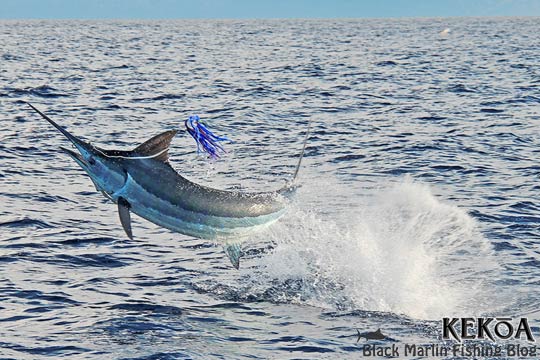 Cairns: A catch up report from fishing out wide over the past two days. On KEKOA we returned from an overnight trip to Holmes Reef (it was almost like a fly-by!) and while the trip out was pretty quiet, we released three from four on the trip back in with two blue marlin and one black marlin, all on lures.  Congratulations to angler Bevan, who, as a double amputee, put in the hard yards to achieve his dream of catching a marlin. But it was very worth it in the end as the fish gave us a fabulous display as blues like to do.  Likewsie, Capt. Tim Richardson on Tradition returned to port on Tuesday from fishing near Holmes and Flora Reefs via the seamount and released a blue on the way in to wrap up his season.  Capt. Craig "Sparra" Denham on Square Bear is also fishing out there at the moment and we look forward to hearing how he goes upon his return.  It seems like Valykyrie had the pick of the days on the seamount earlier in the week as there hasn't been too much to it since.
That's it for our regular season now too save a 4 day trip late next week.  I know that more of the southern fleet have made it home over the past couple of days, after encountering some bad weather on the trip down the coast, and I'm sure they are looking forward to catching up on some R&R as much as I am.  I have received some videos to share which I will do over the next few days after I've caught up on some sleep.  (Holmes Reef is a looong way for an overnighter!)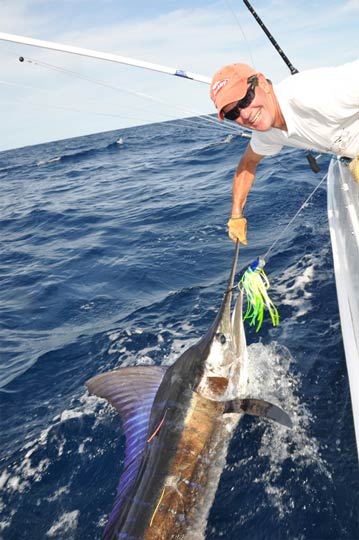 Coffs Harbour: A report from Glen Booth who tells me there are a few stripes and blues around. They tagged this striped marlin on the way home on Sunday on Wicked Weasel, and The Edge tagged a monster striped of 140 kgs just over the shelf. Last week the blues were in quite shallow, with Foreign Exchange tagging one from two bites in 55 fathoms, and losing another out in 85 fathoms.
On the Gold Coast there are whispers that some of the little black marlin are showing up in close. With the blues still being caught, it sounds like it might be a great summer season on the Coast!  And I also heard from Jay Housham who was on Haulin yesterday and released a 1-1-1 striped marlin off Newcastle yesterday as well.