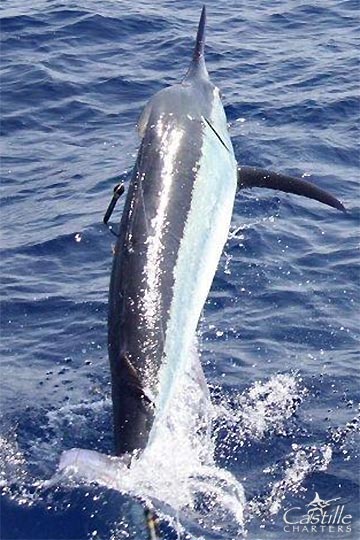 Chris Caron's 850lb black marlin on Castille III tagged during the Lizard Island Black Marlin Classic. This tag has yet to pop up and is still a contender in the great marlin race! Photo with thanks to Tara Manners.
Does everyone remember the history of the great marlin race during the 2011 the Lizard Island Black Marlin Classic?
To give you a bit of background/reminder: Mr. Peter Teakle sponsored five satellite tags to be deployed during the Lizard Island tournament.  The idea was to track the movements of these great fish over a period of  up 120 days (which is the maximum time before the tags pop up, although they can pop up prematurely).  The Lizard Island BMC Race was the result a challenge made by Bob Lowe's Lizard Island GFC team during the 2011 HIBT in Hawaii where the claim was made that a giant black marlin would out-swim a giant blue. And so, they've set out to prove it with four of the five tags deployed during the tournament, and one the week after.
On December 21, the first tag popped up and started relaying information to the team at Stanford University in the US who are monitoring the tags.  The fish was an estimated 900lb black marlin tagged for angler Andrey Grigoriev on board Moana and popped up nearly 500kms (267nm) east of where it was tagged.
This past week, two more tags have popped up. On January 8, the tag from angler Phil Scott on Reelistic with Capt. Brad Craft's also popped up. The estimated 250lb fish had traveled approximately 620kms (334nm) north to take the lead from Andrey's fish. But the lead was short-lived. The next day, another tag popped up, this one belonging to the fish tagged by angler Bill Borkan on boat Castille III with Capt. Dean Beech.  The estimated 900lb fish has traveled an amazing 5073km (2,729nm) east in just shy of three months! (120nm east of Pheonix Island which is north east of Fiji and north of Samoa!) What an amazing result–and there are still two more to come!
As far as I can tell, Bill's black marlin has well out-traveled all six of the 10 tagged blue marlin from the HIBT putting the black marlin in front!!  It's not over yet, but the Hawaiian blues have a lot of catching up to do. It's not Peru, but hey, its on its way!
With thanks to the information from the Stanford University team and the Great Marlin Race website: http://greatmarlinrace.org