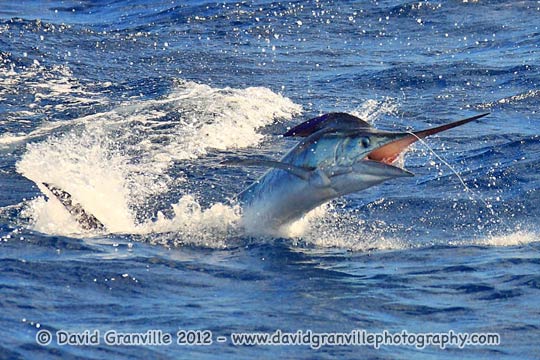 Those on the facebook feed yesterday would have noticed I shared some spectacular pics from David Granville from Port Stephens earlier this week.  David tells me that 2Cats went 5 from 8 in the three days fishing he was with them as the bite quietened a little early in the week (4 stripes and a black). But I also heard that yesterday, it was on again with several boats having a good numbers day in the leadup to the Shootout on the weekend. Good luck to all who are competing!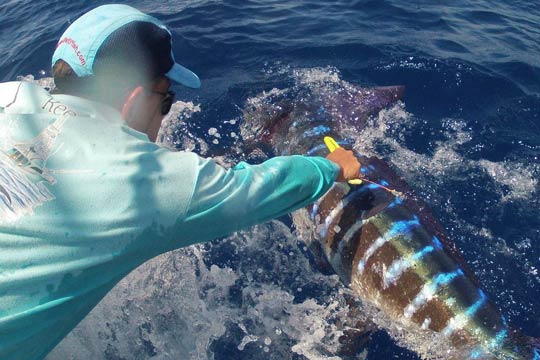 Following up on the recapture news from yesterday, Ben tells me that on board Flying Fisher this season (which is just over two weeks old for them now) they have re-captured four previously tagged fish – photo above of Ben retrieving the tag from a previously tagged stripe – including one that they couldn't get the tag back from being a part of a hectic triple header. Two of the other fish were tagged by Murrifin!  (How's the odds on that?!)  Flying Fisher went 3 from 3 yesterday but watched plenty more caught around them, that's the way it goes!
I also heard from Capt. Daniel Carlson who tells me that he is at the wheel of the 55 Viking Everwilling for the next 3 weeks.  They went 3 from 5 at the Carpark yesterday with start fishing at 11am including the owner's 10 year old son Ethan Henderson's first two marlin – a black and a striped marlin – while Ethan's 15 year old brother Erin caught a stripe.
Video from Ant on Josh from their big 10 marlin fishing day on the weekend at bottom – thank you Ant!
Solitary Islands GFC at Coffs Harbour: A report from Solitary Islands GFC's Richard O'Farrel who reports that now that the weather has cleared after 2 months of solid rain and and the resulting dirty river water on the continental shelf of northern NSW has cleared up and the Coffs Blue Marlin season is on fire. Rick says that once again they are developing a little "Blue Marlin Carpark" out the front only 13-15 miles from the harbour in 70-100 fathoms.  Apparently the same thing happened last year in the same spot and with all the marlin fishing action happens within a 3 mile radius and sure makes for an economical day fishing.
By all reports it has been getting better and better with each day, with several boats raising and tagging blues over the last week, among them Foreign Exchange and Gamefully Employed.  Yesterday however some club boats fishing enjoyed a hot early bite.  Triton had a double hookup on blues early up, tagging one and losing the other. Kestelle arrived on the grounds at 10:30 and had one blue tagged by 11am and were hooked up again and Wicked Weasel had a rubber hooks day going 0 from 4.
Josh's 10 fish day: