Port Stephens
The master, Al McGlashan, sent me some of the best marlin fishing photos you will likely see from his recent trips off Port Stephens with his Strikezone team.  Al says it has been insane out there – as the reports have been showing us. On Strikezone, they fished the last few pre-Interclub amongst the crowds on the carpark for 8 marlin, giving Al plenty of photo opportunities which he has kindly shared below!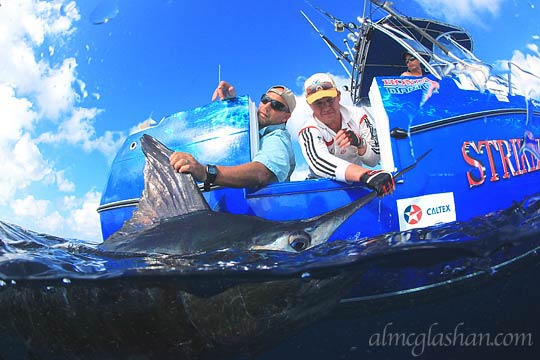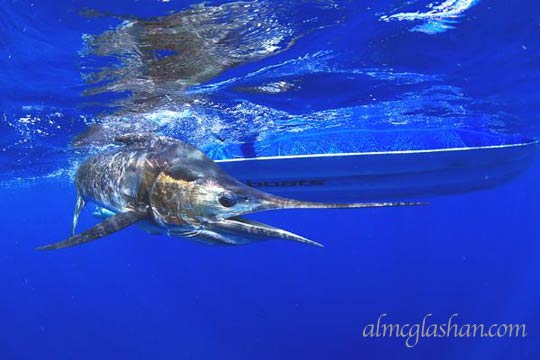 Also finishing up his trip with Mark and daughter Katie in the leadup to the Interclub, Capt. Dean Beech on Castille III reports an outstanding 30 marlin in 5 days fishing.
As for the big tournament, the first two days are now done and dusted and many boats have a few days off to prepare themselves for the final two days coming up this weekend.  For the female anglers gearing up for Ladies Day today – good luck to you all!!
Interclub Day 1 and the Newcastle Port Stephens T&R team of Diversion, Born Free, Gunrunner, Anarchy and The Force (who are actually scored as NPSGFC Team 2) took a much narrow-er lead than first reported. Hot on their heals being Broken Gay GFC Team 2 consisting of Shakara, Gorilla, Avanti, Black Pete and In A Meeting.  I heard the tagging results for Day 1 for these two teams were as follows: NPSGFC Gunrunner 5, Diversion 4, The Force 3, Anarchy 2 and Born Free 1 and BBGFC Shakara 5, Gorilla 4, Avanti 3, Black Pete 2 and In A Meeting 1. Outside these two leading teams, other boats with good fishing include Lake Mac's Ningaloo and Gametime and Sydney GFC's Gale Force and Ambition. Scott on Gunrunner tells me they that the fishing was pretty tough amongst so many boats but they saw lots of tailing fish and bait ball action. Scott also said that they sight fished 3 of the 5 on day 1. Very cool!
While results are still filtering in from Day 2, it seems like Diversion and Shakara have really taken the competition to another level with 7 and 6 respectively, and with teammates like Gunrunner who added another 4 on Day 2, NPSGFC Team 2 are still well in front – more to come!  I've also heard plenty of stories of lost fish. On the capture side, Dave Tucker told me a funny story (not so funny for him I guess) of just what happens when you tempt the fish gods.  Dave was at the wheel of NPSGFC Team 1 Catpure boat Turfed Out and took a break from the bridge for a turn on deck when he offered to fight in his undies if they hooked up within the next 10 minutes.  4.5 hours on 8kg and a good case of sunburn later, they lost the blue marlin on the gaffs!  Later in the day they added a 97.6 kg stripe on 10 for angler Andrew Tucksford.  Some big tigers were also weighed including a couple knocking on the 1000lb mark – and one over at 531kg (1170lbs) on No Excuse.
Outside the comp again, I also heard from ex-Sunshine Coast GFC-er Myles Weston on his boat 2Cats returning from a stint off Port to home base at Empire Bay who released a 55kg striped marlin SOLO on the 33 Bertram.  Miles says that he fought it from the bridge until he got the double up and then went down the ladder to leader it and get his lure back.  What a great effort – congrats Miles!
Lakes Entrance, VIC
There's also been lots of talk over the last couple of days of what may be the first blue marlin caught (ever!) in Victoria at 210kg off Lake's Entrance near the oil rigs. Ross tells me that there have been a few fought and lost but that they are seeing fish daily and also that several stripes have been caught.   They are fishing only 35-40 miles out and Ross says the shelf looks really good out there with plenty of kinks and canyons. Hopefully this will be the first of many!